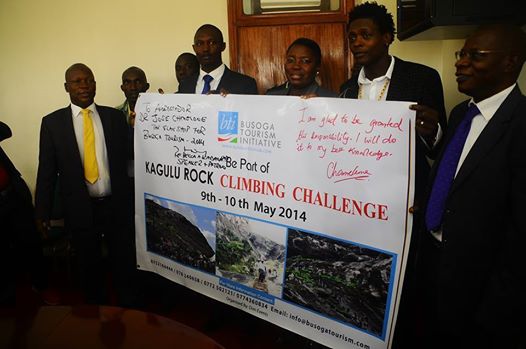 Photo credit: Association of Uganda Tour Operators
Jose Chameleone has signed a marketing deal with the Busoga Tourism Initiative (BTI) to help to promote and boost tourism in Busoga.
The 'Tubonge'singer will act as an ambassador for Busoga Tourism and will participate in a series of campaigns and promotional appearances to promote and popularize tourism in Busoga starting with the Kagulu Rock Climbing Challenge.
The forthcoming 2nd edition of the Kagulu Rock Annual Climbing Challenge is scheduled for 9th and 10th May 2014.
Chameleone whose adopted soga name is "Ngobi", has been endorsed by the Rt. Hon. Speaker of Parliament, Rebecca A. Kadaga , the Patron for BTI, today afternoon at Parliament in the Speaker's Chambers.
"I was amazed by the degree of interest and passion for the development of tourism in Uganda Jose has. Actually, going to the meeting I had thought that I was going to do the talking, but that wasn't the case. The moment we finished exchanging the pleasantries, I ended up doing the listening to the intelligent and innovative ideas Jose Chameleon has on how tourism in Uganda can be promoted. I was very impressed," said the Hon. Edward Balidawa Kafufu ,Busoga Tourism Initiatives' chairperson and Kigulu North Mp.
Dr. Jose Chameleon has agreed and pledged to use his talent of music to promote tourism in Uganda.
The 35 year old is expected to hold his concert at Lugogo Cricket Oval where he will hold the first major music concert of 2014 on Friday 28th March.
Article courtesy of Association of Uganda Tour Operators