18 Days Uganda wildlife safari to Uganda's Top Tourist Destinations
This 18 Days Uganda wildlife safari takes you through Uganda's different top tourist attraction sites or national parks that is to say; a visit to murchison falls national park for wildlife encounters, Kibale forest for the chimpanzee tracking, Semuliki national park for the hot springs, Bwindi Impenetrable forest national park for mountain gorilla trekking, Lake Bunyonyi (Place for many little birds) for relaxation and many more activities as per the itineray below.
18 Days Uganda Safari
Duration
18 days
Departure / Return
Hotel pickup - Your also returned to your hotel.
Programme for the 18 Days Uganda wildlife safari
You will be received by your driver guide at the Airport. Depending on your arrival time, if you arrive night time, we check into Anderita Beach Hotel for a relaxation moment after the long flight.
After breakfast, meet with your driver for a briefing of your safari itinerary and continue to the eastearn part of Uganda through sugar cane and tea plantations. Stop over at the Sezibwa falls, nature walk and birding in Mabira forest, continue to Jinja for lunch at the source of the smile, after lunch, take a tour of Jinja town, source of the Nile with a boat cruise to the starting point of the Nile River.
Accommodation at the source of the smile.
After breakfast, drive to mbale trough tirinyi road with spectacular views from the rocky hills overlooking the community and Mountain Elgon. Check into Sipi river Lodge, lunch and continue for a trek through the rocks as you advance to the Sipi falls and caves. This is a wonderful experience as you go through villages and families below Mountain Elgon and several farms. Return in the evening for an over night at Sipi river Lodge.
With an early breakfast and the cold winds around, we drive towards kitgum town for lunch. We continue to to Kidepo valley National park which is a long bumpy / dirt road-journey and finally check into the park in the evening at Nga'moru wilderness camp for an overnight.
After a cup of coffee / tea at the lodge, we drive through the Game trails for loads of chances to see the game. Expect ostriches, hyenas, lions on rocks, jackals, buffalloes, zebras, elephants, lots of antelopes, dik diks, giraffes, drive along river Narus, lots of birds and get back to the lodge for lunch. Return for another evening / night game drive, return to Nga'moru wilderness camp for an overnight
After a cup of tea / coffee, drive to Murchison falls National park - Uganda's biggest Park which is over 5000 square kilometres. Check into Global Village in Pakwach for lunch / Red Chilli rest Camp, relaxation.
Dinner and over night- fort murchison lodge, relaxation.
An early cup of tea / coffee at 6:00 am Ferry crossing, to the Game drive Nile river Bank to the broad savannah for the most likelihood Big cats hunting, Elephants, Giraffes, Buffaloes, plus more as the checklist of mammals reaches 76 we continue browsing the Drive circuits to the Delta point for a cocktail of Birds and mammals banks.
If you are a keen birder this might be your magnet to catch them. Afternoon 2-5pm for a 3 hours Boat ride to the base of Falls where you get to see the Hippos, Grooming in there Pods, Nile crocodiles, elephants and a variety of beautiful bird species along the falls. Elephants quenching their thirst for the afternoon sun.
Accommodation - Fort murchison lodge.
Morning breakfast, check out of the park and drive along lake Albert to the escarpment area for a great view of the great rift valley, continue to Hoima town for lunch at the kolping Hotel, continue through Mabale, kagadi towns with great views the local community, thatched houses, school kids and finally to Kyenjojo town. Remember it a dirt road from Murchison falls to Kyenjonjo town. Drive 55km to fortportal town and continue through the tea plantations for your evening.
Check into Chimps nest for dinner and overnight.
Early morning breakfast, continue to Kibaale park headquarters for a morning briefing and start the chimpanzee tracking experience. Expect lots of monkeys, birds and lots of tree species.
Return for lunch at the Chimps nest lodge.
Evening relaxation or Bigodi Nature walk with lots of monkey species.
Overnight at Chimps Nest.
Early morning breakfast and drive to Semuliki national park which will take us about 2:30 minutes from Kibale forest for a game drive, nature walk for the hot springs.
Overnight at Mountains of the moon hotel.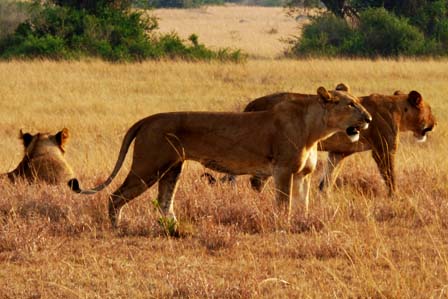 Morning breakfast, drive to Queen Elizabeth National Park, with great views of Rwenzori Mountain, drive through kasese town to Katara lodge for your lunch. Get ready for an evening boat ride on the Kazinga channel with chances of many bird's species, hippos, elephants, crocodiles, leopards.
Overnight at Marafiki safari lodge
Start off with the morning game drive in the park to spot lots of wildlife, that is to say; Uganda kobs, lions, elephants, buffalloes and the pumbas (warthogs), giant forest hogs. Evening relaxation at the lodge as you look at the flat plains of the park with chances of viewing elephants in the acacia tree plants.
Overnight at Marafiki safari lodge.
Early breakfast, continue to lake katwe tourism center for a traditional salt mining experience and a visit to lake Munyanyange for great chance of flamingos. Check out and continue to Bwindi through the Ishasha plains with chances of seeing the tree climbing lions on the way.lunch at Savannah Resort Hotel, continue to Bwindi and check into Buhoma community rest camp for an over night.
Gorilla trekking experience. Get close to the gentle giants atleast 2 meters to the Gorillas.
Return to Buhoma community rest camp for an overnight.
After breakfast, continue through Bwindi forest to the open hilly areas over looking kabale town. Drive through the potato cultivations and along lake bunyonyi.
Check into Overland camp for lunch.
Relax at Lake Bunyonyi and over night at Over Land Camp.
After all the long days on dirt roads, we relax on Lake Bunyonyi with optional canoeing and village walks.
Over night Overland camp for lunch.
Morning breakfast, drive to Lake Mburo National park, check into the park as you drive through the game trails with chances of zebras, elands, topis, waterbucks.
Lunch at Mihingo lodge
Evening boat ride on Lake Mburo with chances of spotting the fish eagles, hippos and crocodiles.
Over night at the Mburo safari lodge.
Morning Nature walk and drive back to Kampala for your evening flight at Entebbe International Airport.