Perfect Gorilla trekking in Rwanda is one of the most fabulous things to experience while holidaying in Rwanda. The Virunga Mountains straddling across Uganda, Democratic Republic of Congo, and Rwanda remains a safe haven for gorillas and a magnet to tourist from all over the world. Other parts that hold huge populations of gorillas in the country include the Volcanoes National Park which is frequented by many guests annually. Here are the reasons why every visitor should consider taking the magnificent trek.
Coming face to face with large silver black gorillas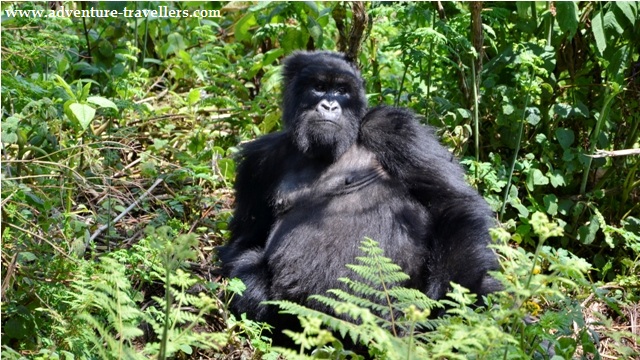 Imagine coming face to face with a huge silver black gorilla on your way up the mountains. This is the reality of gorilla trekking in Rwanda with African Adventure Travellers. For a few moments, many visitors are filled with fear and many unanswered questions on how the animals live, eat, and even think. Remember that the animals are really friendly and you will be in company of guides who understand them very well. The encounter can only be described as magical.
Though many books and even documentaries provide information about gorillas, visitors look into their eyes and realize that unlike other animals, they are mindful and intelligent. Visitors who have trekked here before experience the sense of greatness when they review the photos of the huge animal. Take the opportunity to revisit the basic biology you know as you sample every feature of the gorilla. The guides will be there to help you too.
Enjoying the picturesque sites of the mountains 
Talk of being in the Rwanda equatorial forests are the best place to enjoy your holiday. From the moment you alight from the Africa Adventures vehicles, the reality of the mountain beauty catches up. Every part of the narrow routes is a perfect demonstration of carefully conserved and uninterrupted natural system. From huge trees that are hundreds of years old, giant climbers, and scenic canopy, every moment will be truly amazing.
While the picturesque sites in the forest are unrivaled, posing for a photo with a giant gorilla will stick to your mind for many years. Some gorillas are very peaceful and even come close to associate with people who are considered to be closely related to them. With assistance of the guides, visitors get timeless photos and use them as portraits back home. This is an opportunity you should never think of missing.
Contributing towards conservation 
When you look at the gorillas in their natural setting, one thing that keeps ringing in the mind is how they can be conserved. You will no doubt wish that your children, and even future generations get a similar opportunity to enjoy the wild. This is the main essence of gorilla trekking in Rwanda. The payment made goes along way in helping to protect the gorillas through countering poaching, game meat, research to counter diseases, and protecting the environment.
Travelling can never be complete without experiencing other communities. The people who live next to the areas inhabited by gorillas have developed special interaction that helps in reducing human-wildlife conflict. Interacting with these communities is a fantastic experience. Make sure to appreciate their efforts. Remember to always check travelling eligibility with esta before setting out for holiday.