Ndahura the late Silverback in Bwindi Laid to rest.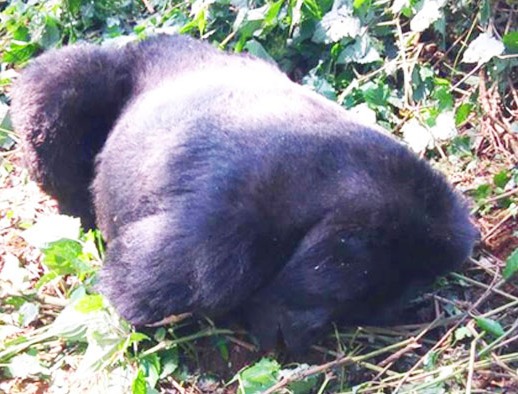 He was only 28 years of age and a dominant silverback in the Butukula family found in Bwindi Impenetrable National Park in the Ruhija sector. He was the head of 12 gorillas in his family which is now left with another silverback, Rukumu who might take over and be the next care taker of Butukula.
On Sunday morning, 8.00am Ndahura is said to have been seated on a weak brunch on a tree that broke and therefore died after his great fall. This was at Hamusenene, a kilometer away from Ruhija post.
The last group to track the gorilla was on Saturday, 17th/ 12/ 2016 at around 9.00 am including the visitors from African Adventure Travellers. A postmortem is said to be carried out so as to know the actual cause of Ndahura's death. However, Ndahura's remains will be preserved and kept in the museum.
---
Bwindi Impenetrable Forest National Park is found in the south western region of Uganda. This park is part of the Impenetrable Forest and is situated along the Democratic Republic of the Congo border next to the Virunga National Park and on the edge of the Albertine Rift. It is composed of 331 square kilometres of both montane and lowland forest, it is accessible only on foot.

---
Other Gorilla trekking safaris