4 Days Nyiragongo Volcano Hike with Gorilla tracking Rwanda
4 Days Nyiragongo Hike and Volcano Gorillas Rwanda safari gives you a combination of gorilla trekking in the Volcanoes National Park - Rwanda and a hike of the Nyiragongo Volcanic mountain in the Virunga National Park - Congo. This 4 days' safari package starts from Kigali with a pick up from the Airport or from your Hotel and drive North West of Kigali through Ruhengeri town in the Musanze district and check into the reserved accommodation.
4 days nyiragongo & gorillas
Duration
4 days
Departure / Return
Hotel pickup - Your also returned to your hotel.
Programme for the 4 Days Nyiragongo Volcanoe hike - Congo & Gorilla trek in the Volcanoes - Rwanda.
Our driver will be ready for your pick up as per plan with our reservations team. Depending on your arrival time in Kigali or set off time, we can have a city tour with a visit to the Kimironko Market or even the Genocide memorial at Gisozi before heading to the Volcanoes Park in Ruhengeri. Lunch may be taken in Kigali, or enroute to Ruhengeri.
We also have an option of visiting the Ibyi'iwacu Cultural Village in kinigi for a community walk including local bear making, medicine man, coffee tour.
Dinner and Overnight at Muhabura hotel, Five Volcanoes, or Silverback lodge.
Its the gorilla tracking day. We shall wake up quite early to pack our bags with an an early breakfast plus picking up our packed luch. Meet up with the driver and head for the morning gorilla briefing. Get assigned to a habituated gorilla family with an armed park ranger, we head through the hills, valleys, thickets and finally find the Gorillas in the Volcanoes. Spend 1 hour with the Gorillas, have your lunch and return. You will receive your certificate/s and then embark on a 2 hours drive to Gisenyi - Lake Kivu for a night.
Dinner and accommodation at Discover Rwanda Gisenyi,Stipp hotel Gisenyi or Serena Lake Kivu.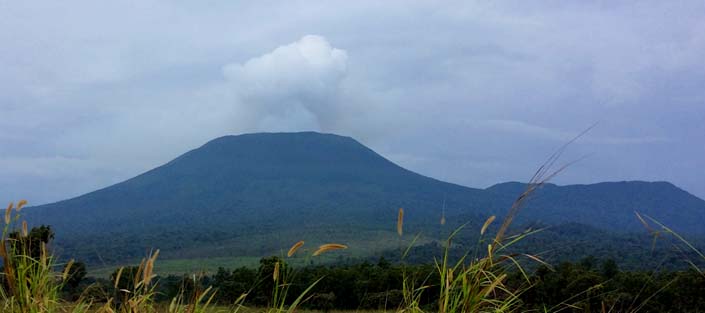 We shall have an early check into the dining area for breakfast as we have to head towards the border crossing area through the immigration and health check points. Drive through the Goma town and head to Virunga National Park ranger post at kibati for a briefing and start the trek of the Volcano mountain. You will walk around the summit for you to take pictures.
Dinner and Overnight in the Nyiragongo mountain huts.
We are departing from the summit at 6:00 am back to Kibati - Virunga national park offices. Be there by 11:00 am. With our driver waiting by, drive back through Goma town,check out and through Gisenyi-drive back to Kigali town for your onward flight. Lunch is enroute.
End of your 4 Days Nyiragongo Hike and Volcano Gorillas Rwanda safari package.
Other Safari trips to Congo's top tourist destinations