3 Days Gorilla Tracking Bwindi Safari, Best of Uganda Gorilla trekking safari
3 days gorilla tracking bwindi safari package is one of the best Uganda gorilla trekking tours. This 3 day Uganda gorilla trekking safari package departs from Kampala or Entebbe at 7am and heads south west through two major highways of Kampala-Masaka-Mbarara-Kabale-Kisoro to Bwindi or Kampala - Mityana - Mubende - Fortportal - Kasese - Kihihi to Bwindi Impenetrable National Park, our day's main travel destination.
We have spectacular stop overs and views of Lake Mburo National park spotting Zebras, Giraffes and in Queen Elizabeth National Park seeing along the road the Uganda kobs, Buffaloes, Elephants, tree climbing lions among others. We shall have lunch en-route in Mbarara town at the Agip Motel or Igongo Cultural Center and in Kasese/Queen Elizabeth National Park before proceeding with the journey arriving late by 5pm with a check into our lodge/hotel. Relax and get a casual briefing while/before having dinner.
How much does a gorilla trekking permit cost in Uganda?.
A gorilla tracking permit in Uganda enables a traveller track the mountain Gorillas in Bwindi Impenetrable forest & Mgahinga Gorilla National Park. The tracking is done in sectors like the famous-Buhoma, Ruhija,Mgahinga,Rushaga and Nkuringo. Among these sections, you will find families which are allocated to each individual trackers in the morning.
A gorilla trekking permit in Uganda costs 700USD per person and is only bought from the Uganda Wildlife Authority-Kampala through African Adventure Travellers. This gorilla permit is used once and its advisable to book one at least 3 months prior to your gorilla tracking date. However, you may need to book your permit 6-months or even a year in advance depending on the months you intend to track the Mountain Gorillas in Uganda. June, July, August, and September period is regarded as high season and you are advised to book your permits way in advance.
3 Days Uganda Gorilla Safari
Drive & Flying
Duration
3 Days, 2 Nights safari
Departure / Return
Hotel pickup - Your also return to your hotel.
Call/WhatsApp for a Free Qoute
Price per person in US Dollars.
| | |
| --- | --- |
| Luxury Safari | 2,742 USD pp (With Flights to and from) |
| Midrange Safari | 1,979 USD pp (With flights to and from) |
The long awaited start of the 3 days gorilla tracking bwindi safari finally kicks off with all covid-1 9 SOPs observed. Your driver will be at your hotel/lodge before departure at 7am for some briefing of the whole gorilla tour and drive west of Uganda to Bwindi Impenetrable forest National Park. Due to covid, sanitizer sprays and masks shall be used throughout the entire safari, but masks can be removed during meals.
This package departs from Kampala/Entebbe at 7am on day 1 and returns on day 3 by 5pm. We have stop overs along the way like the local drum making center in Mpambile,Uganda Equator line in kayabwe-Mpigi District, Lake Mburo National Park for the Zebras along the road side, Rwenzori Mountain views via Kasese and Elephants + tree lions in Ishasha of Queen Elizabeth National Park.
3 days gorilla tracking bwindi forest jungle adventure - 3 days gorilla trekking bwindi tour
3 days gorilla trekking bwindi forest tour - 3 days gorilla tracking bwindi forest jungle adventure

Gorilla trekking in Uganda is done in Bwindi impenatrable forest National Park mainly in Buhoma, Ruhija, Nkuringo, Rushaga, and or Mgahinga. Remember there are 8-trekkers in each gorilla tracking family of which a ranger guide and guard are assigned to lead each group of travellers to the gorillas in the forest.
Today Gorilla tracking is on high demand in Uganda and booking your permits is reccommended as soon as you have your travel dates as the trekking permits are booked so fast due to the high demand from the entire East African Travel Agencies coupled with the European and American markets.
Note: Before you pack your bag to come on a gorilla trekking tour, make sure you have done some physical training with running up hills and some pressure ups.
3 days gorilla tracking bwindi forest jungle adventure or 3 days gorilla trekking bwindi tour is done in Bwindi Impenetrable Forest National Park found in the South-Western part of Uganda on the boarders of Uganda and Rwanda.
Highlights your 3 days Uganda gorilla trekking safari to Bwindi Forest
Programme for the 3 days gorilla Tracking Bwindi safari
Our driver picks you up for your 3 days gorilla tracking bwindi safari trip at 7.00am, from your hotel/ residence and drive to Bwindi Impenetrable forest National Park with brief stopovers at the local drum making center in Mpambile and, at the Equator for some photo taking for your memorable adventure moments and then en-route to Mbarara town for our lunch at Agip motel / Igongo.
From Mbarara we drive through Bushenyi, Ishaka, and view the tea plantations at Igara. As we drive through Ishasha, we get a chance to see the tree lions and some elephants. Then continue through Kihihi-Butogota town to Buhoma where we check in at the Buhoma Section of Bwindi at the booked lodge, take dinner, and then get ready for the thrilling Uganda gorilla trekking expedition the following day.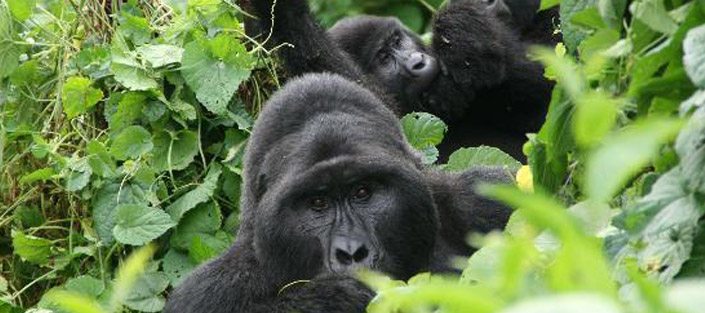 After the early morning breakfast, we report to the park headquarters by exactly 7:30am and be briefed on the gorilla tracking etiquette. After the briefing which takes place at the entrance of the park or starting point for the gorilla tracking trip, you shall penetrate the Impenetrable Forest to look for these gentle giant gorillas under the guidance of a knowledgeable guide and a park ranger guide.
Time taken tracking highly depends on how fast you will locate a gorilla family. It can take from a few minutes to an entire day. You shall then return from this thrilling but highly tiresome adventure to a relaxation and overnight at your lodge.
Some of the Gorilla tracking guidelines or Gorilla trekking rules to note.
Do not eat or smoke when with the gorillas or within a distance of 200 meters from the gorillas.
Do not get closer than 7 meters (21 feet) to the gorillas.
Do not use flash photography as they may scare the gorillas.
Do not Make loud noise or move suddenly.
No one with any sort of disease or communicable disease (e.g Flu, Diarrhoea) is allowed to enter the park for tracking.
Always stay together in a tight group while with the gorillas, do not surround them.
No person under the age of 15 years is allowed to track gorillas
With an early canoe ride,we take our morning breakfast and then continue our drive back to Kampala with lunch to be taken from Mbarara town, drive slowly in Lake Mburo National Park to sight some zebras, antelopes continue with another stopover at the Uganda Equator line.
Start Planning Your Gorilla Safari Now
---
Where to stay on a gorilla safari in Uganda?
Gorilla Safari Lodge - Nkuringo Section.

Haven's lodge-Buhoma Section.

Clouds Lodge - Nkuringo Section.

Rushaga gorilla Camp-Rushaga Section.

Trekkers Tavern & Gorilla Mist Camp-Ruhija

Nkuringo Gorilla Camp - Nkuringo Section.

Silverback Lodge - Buhoma Section.
What is included in your 3 days gorilla tour package
What is excluded in your 3 days gorilla safari:
All drinks taken at the lodges for example alcohol.

Tips and all items of personal nature.



This 3 day gorilla safari transfers you from Rwanda to track Gorillas in Bwindi Forest National Park in Uganda.