Bwindi Impenetrable forest National Park is famous for gorilla tracking or trekking.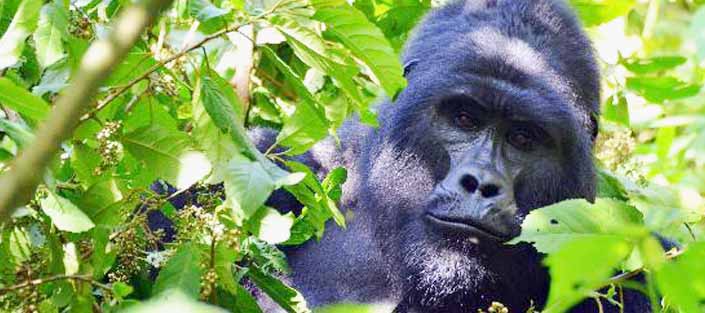 Bwindi Impenetrable National Park is located in southwestern Uganda in East Africa. The park is part of the Bwindi Impenetrable Forest, and is situated along the Democratic Republic of Congo border next to the Virunga National Park and on the edge of the western Great Rift Valley and a 9-10hrs drive through Queen Elizabeth National Park will take you to Bwindi Impenetrable Forest, It also comprises of 331 square kilometres of jungle forests and contains both montane and lowland forest and is accessible only on foot.
The forest is one of the richest ecosystems in Africa, and the diversity of species is a feature of the park. The park provides habitat for some 120 species of mammals, 346 species of birds, 202 species of butterflies, 163 species of trees, 100 species of ferns, 27 species of frogs, chameleons, geckos and many endangered species. In particular the area shares in the high levels of endemisms of the Albertine Rift.
The park is a sanctuary for colobus monkeys, chimpanzees and many birds (such as hornbills and turacos). It is perhaps most notable for the 340 Bwindi gorillas, half the world's population of the critically endangered Mountain Gorillas. There are currently 10 Gorilla groups in Bwindi Impenetrable Forest National Park, Mubare, Habinyanja, Rushegura, Oruzogo, kahungye and Nkuringo, Nshongi, Mishaya and one Nyakagezi in Mgahinga Gorilla National Park.