Gorilla tracking in Uganda on a one day package is designed for our visitors who mainly have limited time but atleast have a day to track the Gorillas and get back to their work, projects the following morning. And these are the visitors who leave strictly near Kabale and Kisoro towns.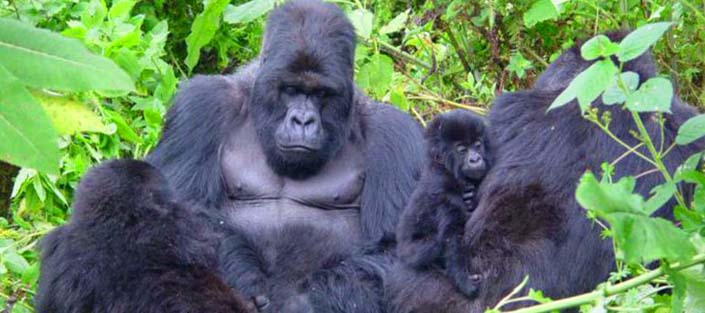 1 Day Gorilla Tracking
Duration
1 day
Departure/Return
Hotel pickup - Your are returned to your hotel.
Your gorilla tracking permit will usually be booked way in advance to secure a space on the tracking day, and your driver guide shall pick you at 5AM to enable him get to the briefing center on time. Briefing shall usually start at 7:30AM, and set off at 8:00AM. Each gorilla tracking group shall comprise of 8-trekkers with the aid of armed ranger guides and porters to help those who may need to be helped to carry their luggage.
You are advised to ask your lodge or home and pack for you at least 2 litters of water, lunch(like a sandwich) and ask the staff to alert you or wake you up at 4AM to make your self ready for the pick up. You may also set your alarm if you have one.
Program for the days Gorilla trek.
Meet your driver guide at 5AM, some briefing and set off for Bwindi forest or Mgahinga Parks. You will reach in time for a briefing and make your self ready for the days gorilla tracking moment. At this point, you will be grouped in an 8-member team that is if there are many persons booked. Some times however, you may track 2, 3 or 4 depending on the season.
You will set off for the tracking with a walking stick which is usually provided during the time of briefing. After a successful trek, you will come close to the gorillas and have an hour with them while you are also given a chance to take videos, photos while keeping your voices very low.
After about an hour, you will slowly walk away and return to your base. Your driver guide will be on standby near the forest and drive you back to the park headquarters to receive your certificate as recognition for trekking the Mountain Gorillas in Uganda.
Please note that your lunch will be taken during lunch hours in the middle of the forest, however, if you happen to see the gorillas before lunch, you will then get back to your base and have lunch from there.
After the certificate of recognition, you will be driven back to your hotel in town and residence.
What to pack on your 1 day Gorilla Safari.
Trekking shoes.
Long thick stockings.
Rain coat and hat or cap.
Bottled water.
Packed lunch.
Water proof long pants
END OF GORILLA SAFARI.