Gorilla tracking from Kigali in Rwanda to Bwindi Impenetrable forest National Park in Uganda. Our driver guide shall meet you at the Kigali Airport or your hotel in Kigali town and drive North of the country via Ruhengeri through the Cyanika border post and head through Kisoro town for an over night in Bwindi forest National Park. On entering Uganda, we can track the gorillas at the Nkuringo, Mgahinga, Rushaga, Buhoma or even Ruhija sections.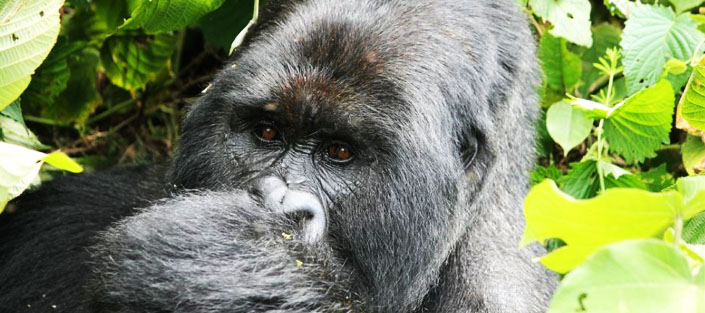 3 days gorillas Kigali-Bwindi
From
$1,495 pp when 2 people
Duration
3 days
Departure/ Return
Hotel pickup - Your also transfered back to your hotel.
Your gorilla safari driver will meet up with you upon arrival at the Kigali International Airport and head to Uganda through the rolling hills of Rwanda, driving through Ruhengeri in the Musanze province and head to the cyanika border post having great views of the volcanoes and Lake Mutanda. Your driver shall have stop overs for you to have great picture moments.
Check in and out of the migration at the border post and head through Uganda to
Bwindi Impenetrable forest National Park
. We have several options of where to track the
gorillas
with Nkuringo, Mgahinga and Rushaga sections emerging the best as they are very close to the border with
Rwanda
. Other sections include Ruhija and the
Buhoma
section of
Bwindi
.
Dinner and Overnight at your preffered lodge.
Accommodations to choose from:
Bwindi Jungle lodge.
Kisoro travellers rest.
Clouds Mountain Gorilla lodge.
Bwindi Lodge-The jungle Gorilla lodge.
Nkuringo Bwindi Gorilla lodge.
Gorilla forest Camp.
Rushaga Gorilla Camp
Gorilla Mist Camp.
Ruhija Gorilla Safari Lodge.
Lake Mutanda Lake Resort.
Gorilla Tracking destination from Kigali
Depending on which lodge you slept at, we usually recommend waking up at 6:30am, shower, have your breakfast and walk or drive to the briefing area for your gorilla tracking in Uganda.
Bwindi Forest National Park is home to about 340 Mountain Gorillas which is estimated to be half of the world's gorilla population. Your park warden and ranger guide will point out more facts and history about gorilla tracking in Uganda. You will be assigned a group and join other trekkers to make atleast 8-members and set off for the gorilla trek.
Porters to carry your extra bag, sedan chairs for the disabled, and walking sticks will all be on standby for those who might need them. However, a prior communication will be needed to enbale us prepare well.
We can not predict the time you will take to see the gentle giants of Bwindi forest as this all depends on where they last fed the previous evening. But this all ranges from 1hr to a full day which ends at 7PM. However, with our past records and experience. You will find the gorillas atleast 2hrs from the time you start tracking. And spend 1hr with them while watching,taking pictures and videos. You are likely to be back by atleast 1,2pm. Go for a gorilla graduation ceremony, receive your certificate and head back to your car driving back to your lodge.
We have options for the evening.
Relax by your lodge.
Drive to Lake Mutanda for an evening canoe ride and have that amazing view of all the volcanoes.
Drive to Lake Bunyonyi which is also called the switzerland of Uganda with a canoe ride and see more of the Pearl of Africa.
In any case that you choose to travel to
Lake Bunyonyi
in your prior correspondencies with our reservations team, the best option for accommodation on this package would be:
Buhoma
section or Ruhija and the entry back to
Kigali
would be the Katuna border post not Cyanika.
Dinner and Overnight at your preffered lodge.
Day 3 - Travel back to Kigali.
After our breakfast, we shall head back to Kigali for a city tour and our onward flight.
End of the 3 days gorilla trek from Kigali to Bwindi.