2 days chimpanzee tracking in Kibale National Park to see the chimpanzees.
Kibale National Park is renowned for its diverse primate species and the moist evergreen and semi-deciduous forest eco system.The most prominent primate species in the park are man's closest relatives, the chimpanzees. Several communities of chimpanzees in Kibale National Park have been habituated for tracking and human interaction.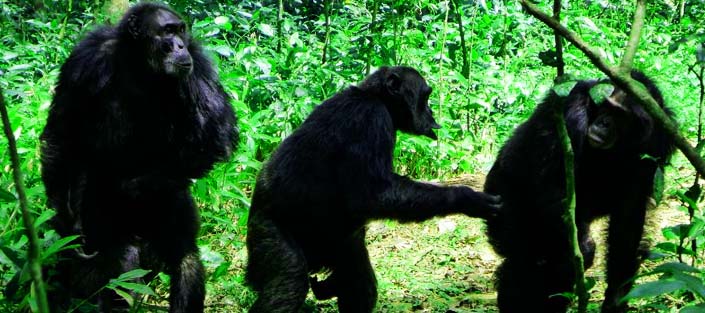 2 Days Kibale Chimp Trip
From
$345 pp
Duration
2 days
Departure/Return
Hotel pickup - Your also returned back to your hotel.
Price per person for different numbers of people.
(e.g. when 2 people, each pays $450)
| | | | | | | | | |
| --- | --- | --- | --- | --- | --- | --- | --- | --- |
| Number of people against price per person | 2 - $450 pp | 3 - $421 pp | 4 - $375 pp | 5 - $370 pp | 6 - $350 pp | 7 - $345 pp | 8 - $345 pp | 9 - $345 pp |
This package presents to you a thrilling encounter with these delightful apes while giving you that unique African jungle experience.
Highlights of your 2 Days Kibale Chimps trip
Nature walk in Bigodi swamp for bird watching and other primates spotting, - view several monkeys
Detailed Itinerary for your 2 Days Kibale Chimpanzee trip
We set off from Kampala at exactly 7.00am and drive through Mityana, Mubende, Kyenjogyo towns, and the tea plantations 10 km to Fort Portal town and 45km to our chosen Safari Lodge in Kibale National Park. We shall have lunch at the lodge, after which we engage the awe-inspiring rainforest with an evening nature walk. The nature walk will give you a close encounter with the natural diversity of the park - the big trees, flowers, plants and vegetation, butterflies, several monkey species such as the red Colobus and L'Hoest monkeys and several birds.
The nature walk will end at around 5.00pm and fall back to your lodge for an overnight of relaxation and reflecting on the day's adventures as we await the more thrilling chimp tracking expedition the following.
We shall have early morning breakfast and start our chimp tracking expedition by 7.30am. The evocative pant-hoot calls of the chimpanzees are common sounds in the forest and will play big in guiding you to these apes. You will also view other primates especially monkeys floating in the trees, and several bird species.
The tracking ends by mid day and then return to Chimps Nest for lunch after which we check out of the park and back to Kampala.
Accommodations to choose from:
Kibale forest Camp.
Chimps Nest.
Primates Lodge
What is included in your pafari package
What is excluded from package
Tips and all items of personal nature.
All drinks taken at the lodges.
*Terms and Conditions Apply*