Nyiragongo Mountain located North west of the Democratic Republic of Congo with an elevation of 3470 lies with in the Virunga National Park, boardering with Rwanda to the North east from Kigali. The mountain hiking point lies 17KM from the Goma boarder crossing point of the Congo boardering with Gisenyi to the Rwanda side.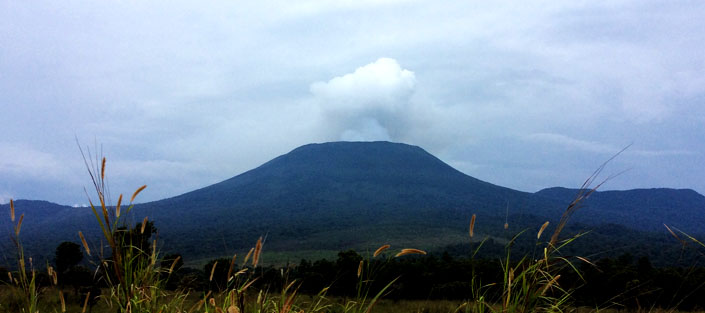 2 days Nyiragongo Hike
Special offer
*10%
Duration
2 days
Departure/Return
Hotel pickup - Your also returned back to your hotel.
Nyiragongo is one of the world's active volcanoes with smoke and beautiful fire flames seen on a daily basis especially through the night. The most tragic erruptions of Nyiragongo happend between 1882, 1977, 1994 and 2002 with some lava flowing into lake Kivu recording a high number of fatalities. This caused numerous earth quakes around the towns of Goma in Congo and Gisenyi in Rwanda having several buildings collapse and many families abandoning their homes bacause of the daily fears of further erruptions.
Your 2 days Nyiragongo hiking program
Day 1 - The hiking departure time from Kibati the starting point for the hike is 10AM and will proabably take around 5hrs of hike time to reach the summit or view point of the Nyiragongo mountain. You are advised to spend a night in Gisenyi and cross over through Goma town driving early to Nyiragongo park head quarters for a briefing. Alternatively,you may have an overnight in congo and drive straight to Nyiragongo park head quarters for a briefing of the hiking program. We have options like Ihusi hotel right in Goma town which is only a half an hr drive to the starting pont or Bukima lodge deep in the Virunga Park with a 1hr 40mins drive from the lodge to the hiking point or Mikeno lodge having a 1hr drive all in the morning.
All the accommodation along the mountain shall be in tents.
Day 2 - After your nyiragongo summit breakfast, you will start descending at 6:30AM to the bottom taking you about 3hrs. Your driver shall be waiting by to drive to your next destination.
Advise on what to pack and requirements:
Rain coat.
Hiking boots.
walking stick.
back pack for your personal properties.
Porter.
Cooking utensils. ( Note that most of the above can be arranged. Kindly inform us in advance what you may need to book for you).
Immunisation requirements: You are advised to have atleast,Yellow fever,Tetanus and Polio vaccinations.
Visa: You are also advised to book your visa atleast 14-days to visiting congo. Otherwise,further arrangements for last minute bookings may be applied.
Lodges to choose from:
Ihusi hotel on lake kivu in Goma.
Bukima tented camp in the Virunga Park.
Mikeno lodge in the Virunga Park.
Other activities:
Gorilla tracking in the Virunga mountains.
Boat cruise on lake kivu.
Boat transport from Goma to Bukavu.
Community visit with local beeer making and farming along the volcanic mountain.