6 days gorillas and wildlife tour in rwanda to track the mountain gorillas in the volcanoes park, visit the Akagera national park to view the zebras, giraffes, buffalos, hippos, baboons, lions, topis, waterbucks with a great boat ride on ihema. Relax in Gisenyi on lake kivu boadering Congo.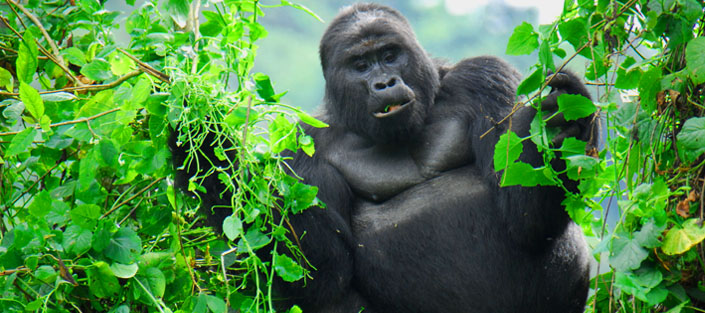 Highlights of the 6 days gorillas and wildlife tour in Rwanda.
Meet with your driver after breakfast at your preffered place of pick up, get a briefing about your whole trip, and drive to Akagera Nationl park. The drive time from Kigali to the Park is about 2hrs of which the last 45 minutes is mainly done on a dirt but paved road.
We shall register at the park's entrance and be assigned a game park guide to take us around.We shall kick off with sighting the usual Zebras which feed around the parks main entrance and headquarters. Water bucks, Topis, Buffalos, Impalas plus Girraffes will be spotted.
Drive to your chosen lodge for check and lunch. Relax by the lodge and have a 2 hours boat ride on Lake Ihema in Akagera National Park.
Dinner and Overnight at the preffered lodge.
Day 2 - Full day Game drive in the Northern section.
Early breakfast, with your packed lunch, bottled water. Drive towards the Northern section of the park via the mutumba hill for great wildlife over looking Tanzania. The northern section is a great wildlife spotting section which has both Savannah woodlands and Open Savannah grasslands.
Lunch in the Open plains, continue spotting the Elands, Buffalos, Masai Giraffes, and return later to your lodge for relaxation, Overnight and Dinner.
An early breakfast will prepare us for a 4hrs drive from Akagera National Park crossing through Kigali city to Volcanoes National Park the home of the Mountain Gorillas in Rwanda.
Lunch will be enroute and several stop overs will be taken as we view the Volcanoes mountains for picture moments and offcourse the 1000 rolling hills of Rwanda and valleys.
Check into our preffered lodge for Dinner and Overnight.
This is a fully packed day. Breakfast from our lodge, packed lunch and food with atleast a litter of bottled water per person. Walking stick on you, rain jackets, long water proof pants tucked in socks, with strong trekking boots and a small back pack. Continue to the briefing center and make registration, get grouped in a Gorilla family to track. Continue to the starting section for the days adventure.
NOTE - The tracking can take less than 1hr or may even take a full day.Return later and for graduation where you will receive a certicate from the Volcanoes National Park confirming participation in the Rwandan Gorilla tracking.
Return to your lodge for dinner and overnight.
Its a relxation day after the Gorilla trek in the Volcanoes National Park. We shall visit the cultural village of iby'iwacu for a great perfomance from a reprica of the Kings palace of Nyanza and you could become a king or queen for the day. Perfomances such as Kinyarwanda traditional marriage, the medicine man, the black smith and the local food grinding on a carved stone.
Continue to Gisenyi for a 1hr drive and have a city tour. Drive along Lake Kivu Overlooking the Democratic Republic of Congo with a relaxation and swimming in the white sand beach.
Day 6 - Visit Lake Kivu and travel back to Kigali.
After the tour of Lake Kivu, embark on your return journey to Kigali with a drive around town and later continue to Kigali International Airport for your return jouney back home or onward jouney.