Mountain gorilla tracking in the Democratic Republic of Congo is done in the Virunga National Park located east of the country bordering Uganda to the West through the East African Rift Valley and partly running through Lake Edward, The park also borders with Rwanda to the North west.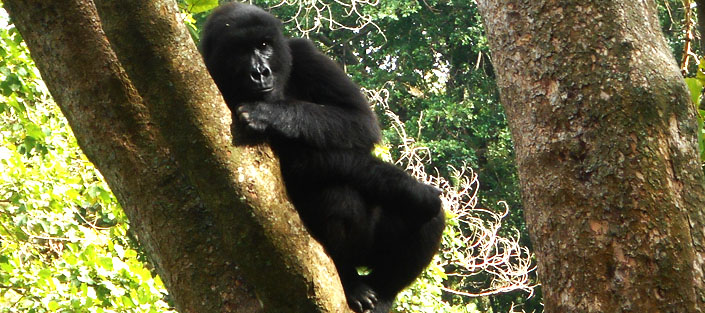 2 Days Gorillas Congo
Special offer
*15%
Duration
2 days
Departure/Return
Hotel pickup - Your also returned back to your hotel.
And, the lowland gorillas are found in the Kahuzi Biega National Park located east of the country over looking the famous town of Bukavu,also bordering with Rwanda to the south west.
Your 2 days gorilla trek in the Virunga National Park - Congo.
Day 1 - After your breakfast at your Kigali, Ruhengeri or Gisenyi hotels, meet with your driver guide for a briefing of the 2 days gorilla trek in the Virunga National Park - Congo. Drive towards Gisenyi/Goma border crossing point and check in at the immigration center for your visa processing and immunisation office to present your Yellow fever card. (Yellow fever,Tetanus and Polio vaccines are mandatory).
After crossing into Congo,we shall head to our lodge for a nights dinner and accommodation as we prepare for the next days gorilla trek in Congo. The best recommended accommodation to set off for the trek is Bukima tented camp as it has the starting point for gorilla tracking in the virunga mountains. However, Ihusi hotel on Lake Kivu in Goma and Mikeno lodge in the virungas would be other alternatives but you would have to drive 2+hrs to Bukima for gorilla tracking.
Dinner and Overnight at your preffered lodge.
Day 2 - After our early morning breakfast, packed lunch with bottled water,we shall head towards the park briefing head quarters at Bukima. Set off time shall be at 9:30AM with great views of Mikeno mountain in the background of Bukima in the Virunga National Park.
You will be assigned with a park armed ranger guide and trekker guides for your day gorilla tracking adventure with each group consisting of 4,travelers. After a succesful gorilla trek, return later to receive your certificates and drive back your lodge.
The Virunga National Park has 8,gorilla families with a total of 450 gorillas of among which 135 members are habituated. We have four gorilla families around Bukima with a total of 41 members.
Gorilla families at Bukima.
Nyakamwe----------------12 members.
Humba--------------------10 members.
Rugendo------------------10 members.
Munyaga------------------ 9 members.
End of your 2 days gorillas Congo tour