Murchison falls National Park is Uganda's biggest wildlife park where you find lions, elephants, crocodiles, hippos, buffalos, giraffes, jackson's heartbeats, waterbucks, warthogs, oribis and chimpanzees in Budongo forest.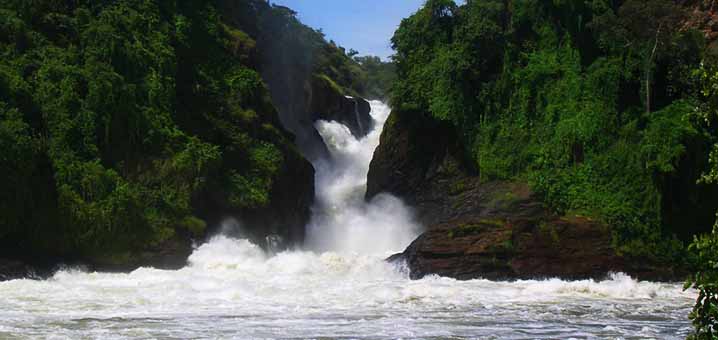 Murchison Falls National Park the largest National Park in Uganda is located in the North western part of Uganda at 3840sq km; A 5-6hrs drive will take you through the main Gate at Kichumbanyobo gate, and will be welcomed by the shying away baboons through kaniyo Pabidi forest which is also common with chimp trekking.
The park is named for its dramatic Murchison Falls, where the world's longest river explodes violently through a narrow cleft in the Rift Valley escarpment to plunge into a frothing pool 43m below.
Sir Samuel Baker, who in 1864 was the first European to see the falls, named them after Sir Roderick Murchison, president of the Royal Geographical Society. The falls lend their name to the surrounding Murchison falls National Park.
During the regime of Idi Amin in the 1970s the name was changed to Kabalega Falls, after the Omukama (King) Kabarega of Bunyoro, although this was never legally promulgated. The name reverted to Murchison Falls following the downfall of Idi Amin; It is still sometimes referred to as Kabalega Falls.
The park boasts of lots of flora and fauna, Elephants, Water buffalos Lions, Leopards, Hippopotamus, Giraffes, Nile Crocodiles, Antelopes, Uganda Kobs, Hartebeests and Oribis. birds include-herons, cornmorants, ducks, bee-eaters, fish eagles, kingfishers and sometimes the rare shoebill among others.
Accommodations in the park.
Murchison River lodge

Pakuba lodge.
Main activities in Murchison Falls National Park
Game drive

Boat cruise

Top of the falls visit

Chimp trekking

Bird watching