Nyungwe forest National Park located in the south west of Rwanda is famous for chimpanzees, congo nile trail walk and the great canopy walk.
A 5hrs drive will take you to Nyungwe forest National Park from Rwanda's Capital city Kigali. The park is located in the south western part of Rwanda covering an area of over 1000Sq Km about 600square miles. The area was gazzetted as a reserve forest in 1934 and was first called the Rujeje forest by the first forest duellers. It was declared a National Park in 2005 by the Rwandan Government.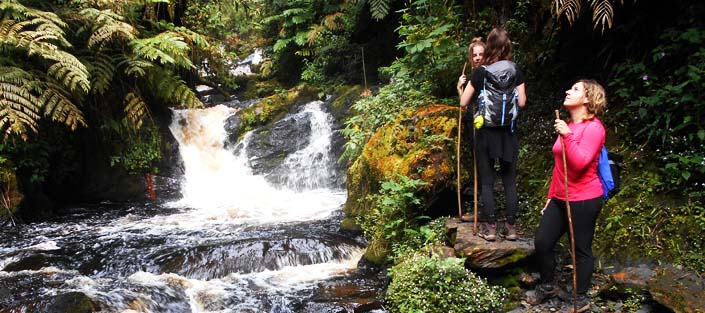 The Nyungwe forest is a home of 280 species of birds, 32 species of amphibians, 38 species of reptiles, 200species of plants and 160 species of orchids and many flower species.
Chimpanzee tracking - Nyungwe forest is home to about 400 Chimpanzees and represents one of the last intact populations in the area. In addition to several wild chimp communities, there are currently two habituated chimpanzee groups. One in chamdungo and Uwinka (around Mayebe). A third group is still under habituation in the northern section of the park at Gisovu.
The tracking is an exciting challenge as you trek through a dense forest with great sightings of other various species of monkeys like the Red tailed, vervets, Olive baboons, Grey cheeeked mangabeys, L'hoest'd Monkeys.
The Canopy walk at Uwinka - The Nyungwe forest Canopy walk gives visitors a great opportunity to experience the rain forest with canopy walk way challenge. The walk way was built in 2010 by a canadian NGO - Green heart with help from U.S.A.I.D. It is embedded in a specialised guided tour as you slope down from the Uwinka visitor's center through the Igishigishi trail. The trail will take you approximately 30minutes to get to the starting point of the canopy as you walk slowly in a steep slipperly valley.
The Canopy walk way is 160Meters and 70meters from ground. It has 3 sections with the first Canopy at 45Meters, second at 90Meters and third being at 25Meters. From the Top of the canopy walk way, you are able to have great view of the Nyungwe canopy, monkeys playing, close encounter with birds and on a clear day, Lake Kivu can be spotted. The Congo Nile Trail, Birding, Hiking and the Isumo water falls visit are among the activities done in the Nyungwe forest National Park.
Some facts about the Nyungwe forest:
Elevation ranges from 2200Meters to nearly 3000Meters. (about 7000 to 9000feet).

Park Covers over 1000 Square Kilometers (about 600Square miles).

It is Africa's Largest Protected Mountain forest.

2005 was established as a National Park.

Annual rain fall is over 2000mm(about 80 inches).
What to carry with you, (Recommendable)
Rain Jacket, Umbrella and scarf as it rains almost throughout the year.

Hiking / trekking boots.

Warm clothes.

Walking sticks.
Safari itineraries to Nyungwe Forest Park