1 Day Ngamba Island chimpanzee tour - Chimp Sanctuary
The 1 Day Ngamba Island chimpanzee tour takes you to the habitat of chimps on lake Victoria (Ngamba Island chimpanzee sanctuary) in order for you to spot the luckily rescued chimpanzees that found their everlasting love and safety on the beautiful Ngamba island. On this island, chimpanzees form friendships with each other and as well as their human caregivers.
Ngamba Island Chimpanzee Sanctuary started in 1998 and is situated on the Victoria Lake (fresh water lake in Uganda) with its major aim of keeping and caring for the rescued orphaned chimpanzees mainly from poachers or by the wild encroachers. Ngamba Island Chimpanzee Sanctuary which is surrounded by the fresh waters of Lake Victoria is now a home to 49 chimpanzees with 20 male and 29 female chimpanzees. Amongst these, 46 are orphaned chimps and the three (3) were luckily born on this Island.
Chimpanzees sometimes called Chimps are members of the Hominidae family which includes Gorillas, Humans, and Orangutans. it is said by scientists that Chimpanzees are the closest living relatives to Humans with 99% identical DNA between human beings and chimpanzees. The brain of a chimpanzee is less than one third the size of the human brain.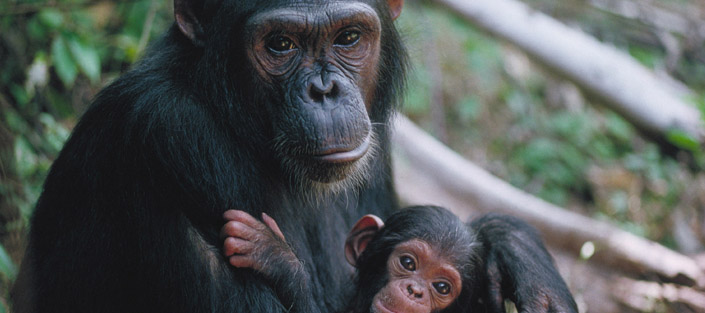 1 Day Ngamba Island
From
$130 per person
Duration
1 day
Departure/Return
Hotel pickup - Your also returned back to your hotel.
Price per person for different numbers of people.
(e.g. when 2 people, each pays $160)
| | | | | | | | | |
| --- | --- | --- | --- | --- | --- | --- | --- | --- |
| Number of people against price per person | 2 - $160 pp | 3 - $145 pp | 4 - $140 pp | 5 - $138 pp | 6 - $130 pp | 7 - $130 pp | 8 - $130 pp | 9 - $130 pp |
Highlights of your 1 day trip to Ngamba Chimp Island
Taking a boat cruise on Lake Victoria to the Island
Chimpanzee viewing and feeding
Island shopping (optional)
Swimming at the equator (for only those who know how to swim)
Sunbathing and relaxing
Visiting a neighbouring fishing village
Sighting monitor lizards and photographic experiences
The Ngamba Island Chimpanzee day tour starts off from your desired place of pick at exactly 7:00am for the morning session and 11am for the afternoon session. Meet up with our driver guide for a briefing and drive to Lake victoria. Once we get to Lake Victoria, we shall board a speed boat which will take us approximately 45 minutes of travel on water to land on the Ngamba Island.
It is a worthwhile visit which gives you an opportunity to all those who have always wished to see how Lake Victoria looks like, as you travel along the water, you will meet many local fisher men with their local fishing tools. Along the way, you spot many different bird species on the lake like the cormorant birds, cattle egrets and many others.
Arrival at Ngamba Island
As you land on Ngamba Island, you observe the great view of the Chimp Island and start spotting the monitor lizards along the waters of the Island, different bird species like the singing Black headed weavers, the spur winged lapwings, African Open billed storks, Sacred ibis, Egyptian goose, yellow billed dark, kingfishers and many fish eagles among others that come feed along the water banks.
Then you will be taken or be directed to the visitors' centre where you will be introduced to Ngamba Island Chimpanzee Sanctuary, its history and be briefed about the different activities you will be taken through at the Island.
Breakfast and Chimpanzee Feeding at the Island
You will then be served with a cup of tea /coffee, and later at 11:00am/2pm be guided by the chimp caregivers to observe the chimpanzees feeding at a closest distance on a raised platform.
You will also observe the different chimpanzee behaviours as they eat, play amongst each other and rest.
After the 11:00am/2pm chimp feeding, you will be taken through the different centres at the Island, that is to say the chimp food store. The chimp caregiver explains how to healthily keep the chimp food and the types of food given to the chimpanzees.
The management only helps these chimps on a few fruits like pineapples, oranges, tomatoes, apples, water melons, passion fruits, jack fruits, carrots, cabbage, cassava etc. which may not be enough from their searches in the forest.
You will also be taken at the Chimp clinic, and be taken through how to care for the chimps, types of treatment offered and their general health status.
For the afternoon goers, you will participate in the food preparation activity as one of the behind the scenes activities under the guidance of a caregiver.
For the morning session,you will catch your speed boat at 11:45am and return to the mainland. For those doing the afternoon session,you will catch your return boat at 4pm.
You will spot different plant and tree species and a variety of bird species on the Island.
Swimming at the Equator and Travelling back on land
In the evening, we embark on our journey back but expecting to make a stopover at the equator to observe how the boat will be pushed by the South and North Pole forces tending to keep in one position.
If clearly observed, when the boat crosses the equator, the boat engine will tend to use a little more energy to beat the equator line.
If interested in swimming, this is the right point and you be given some minutes to enjoy the swimming activity and then finally proceed with the journey.
You will be awaited by our driver to drop you off to your hotel in Kampala or Entebbe.
Pick up and drop off at your Hotel in Kampala / Entebbe.

English Speaking driver guide.

1 Permit per Person for the chimpanzee excursion.

Lunch with a drink.
Tips and items of personal Interest.

Extra and alcoholic drinks.
We have 2,sessions for this tour.
1-Morning session: from 8:00am and return later at 1:30pm
2-Afternoon session where you leave at 11:00am from your Hotel and return later at 6:00pm.
What to carry for the Chimpanzee Island Tour:
Rain Jacket/Heavy jacket as it gets cold and windy on the speed boat.

Cap/Hat with a neck string.

Camera and well-charged batteries.

Open shoes/shorts are okay.
Other chimpanzee tracking safaris
Related Links to detailed chimp experience