2 Days Queen Elizabeth Safari trip.
This 2 Days Queen Elizabeth tour or safari package gives a chance to a memorable game drive to spot the tree climbing lions, buffaloes, kobs, warthogs, elephants, leopards, waterbucks and many more wildlife. Also you are taken for a boat ride on the kazinga channel to spot many bird species like kingfishers, animals like buffaloes, elephants on the water banks and the crocodiles.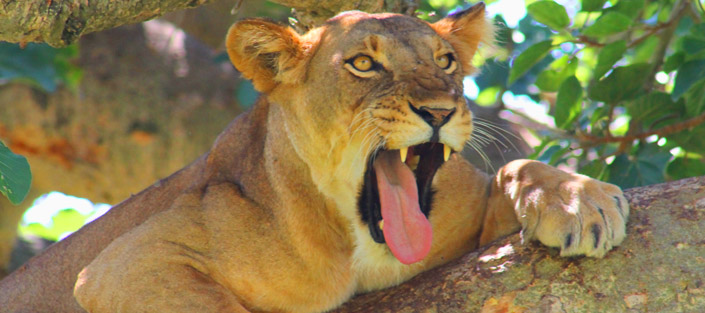 2 Days Queen Elizabeth
From
$220 pp
Duration
2 days
Departure/Return
Hotel pickup - Your also returned back to your hotel.
Price per person for different numbers of people.
(e.g. when 2 people, each pays $362)
| | | | | | | | | |
| --- | --- | --- | --- | --- | --- | --- | --- | --- |
| Number of people against price per person | 2 - $362 pp | 3 - $312 pp | 4 - $285 pp | 5 - $270 pp | 6 - $260 pp | 7 - $250 pp | 8 - $235 pp | 9 - $220 pp |
Highlights of your 2 days Queen Elizabeth trip.
Visit the Uganda Equator

Game drive through the pack as you check out.

Boat-ride on Kazinga channel.

Salt lake visit (Optional)
Swimming at Mweya Safari lodge.
The park (Queen Elizabeth) is situated in south-western Uganda. It lies on an area of 764 square miles (1,978 square km) in a region of rolling plains east of Lake Edward and the foothills south of the Rwenzori Mountains.
The park is named after Queen Elizabeth II and was established in 1952. It is known for its wildlife; that is to say the hippopotamuses, elephants, leopards, lions and chimpanzees. It is now a habitat to 95 species of mammals and over 500 bird species.
Your 2 Days Queen Elizabeth tour involves and includes:
On our way to the park, we shall have a stopover at the Drum makers village, en-route Mbarara for our lunch and then continue to Queen Elizabeth National Park for a 3'Oclock boat ride on the 36km Kazinga Channel.
Expect to spot lots of bird and animal species; that is the hippos, elephants, buffaloes and crocodiles. We shall return at 5:00pm and continue for an hours evening visit to Lake katwe Tourism Center for a chance of sighting the Flamingos, salt mining center and the fishing village.
Dinner and overnight at the Mweya Safari Lodge.
Day 2: Morning game drive and driving back to Kampala
After our early morning breakfast or parked breakfast, we go for a morning game drive in search of elephants, buffaloes, Uganda kobs, tree climbing lions, leopards, hyenas, warthogs and many more of the wildlife.
Next is checking out of the park and drive back to Kampala or at your chosen address, but expecting a stopover at the Uganda Equator.
What to carry and bring on a 2 days Queen Elizabeth safari trip:
Bottled drinking water

Sun glasses

Charged Camera batteries

Light and heavy clothes.
End of your 2 Days Queen Elizabeth Safari