Mihingo Lodge is superbly located on a Kopje hill east of Lake Mburo with a breathtaking view of the lake and the surrounding plains.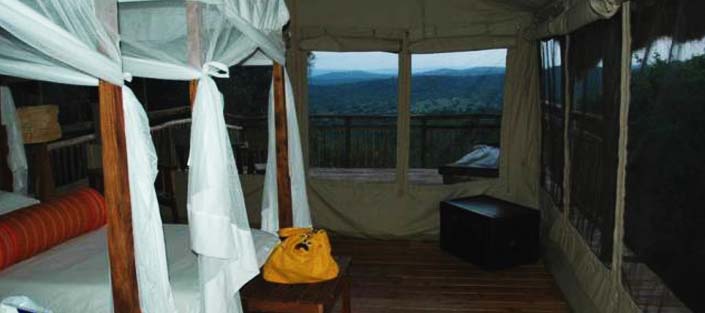 The sleeping tents are well furnished, set on wooden platforms with thatched roofs and their designs give a nice view over the nearby waterholes and plains of the National Park. They are equipped with an en-suite bathroom with hot and cold water showers and flushing toilets. They are also well spaced to ensure convenience and privacy of the guests.
The exceptionally good food is served in a central dining room built using rocks and natural wood.
The lodge has a swimming pool where you can relax and unwind after a day's adventure in the park. The pool also has an awesome view of the park which gives you a chance to gaze across the plains and watch the zebras, elands and impalas drinking water at the waterholes while you relax in the cool pool waters.
The staff at the lodge is welcoming as soon as you arrive till the time you say good bye.