Lake Mburo National Park in western uganda where you can find giraffes, buffalos, hippos, crocodiles, zebras, elands and many other antelopes.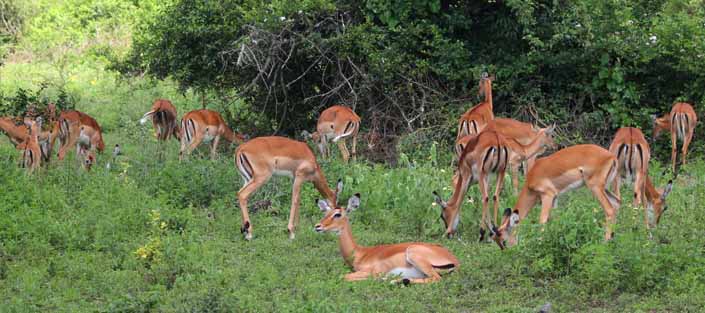 Lake Mburo National Park is located in Mbarara District in western Uganda. The park is situated about 30 kilometres (19 mi), by road, east of Mbarara, the largest city in the sub-region. This location is approximately 240 kilometres (150 mi), by road, west of Kampala, Uganda's capital and largest city.
The park has a variety of animals such as the newly introduced giraffes, zebras, impalas, buffaloes, topis and over three hundred (300) bird species. At 260 square kilometres (100 sq mi), the park is the smallest of Uganda's Savannah national parks. The park has camp grounds and permanent tent facilities for visitors. Kimbla-Mantana African Safaris operate the only luxury tented camp inside the national park - Lake Mburo Tented Camp. In 2009, the Uganda Wildlife Authority, which manages the park announced plans to introduce balloon tourism in the park.
Accommodation in Lake Mburo National Park
Mburo Safari lodge.

Rwakobo Rock.

Rwonyo Camp.

Arcadia Cottages.
Main Activities in the park.
Game Drive.

Boat Cruise.

Horse Back Safaris.

Morning Safari Walk.