Lake Victoria is one of African great lakes which was named after Queen Elizabeth Victoria of England who was sent by reins of England, the lake is relatively young by 400,000years and was formed when westward flowing rivers were dammed by an up thrown crustal block. It's also one of the world's largest tropical lake second to superior lake in North America.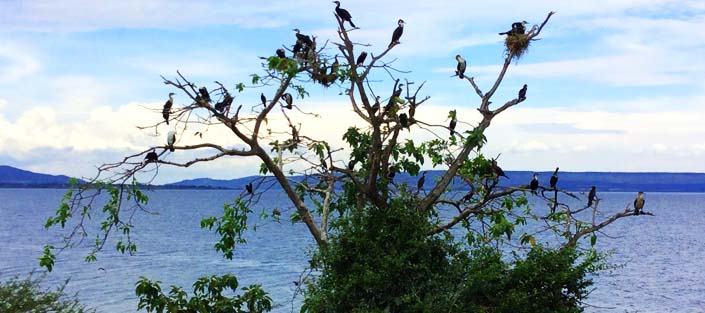 Lake Victoria has different local names (in Luganda it's called Nalubale, Nam lolwe in luo and Nyanzi in Kinyarwanda). It receives water from direct rainfall and thousand small streams about 85% inflow, one of them is Akagera River which is the largest flowing into this lake and originates from either Rwanda.
Victoria is drained or outflowed 15% by Nile River in Jinja Eastern part of Uganda known as the source of river Nile flowing to Egypt and found by John Hannington speak in 1858 not only that, it's a wide lake shared by three countries Uganda(45%), Kenya(6%) and Tanzania(49%) with fresh waters in the world.
Lake Victoria takes the ninth position in the continental with the highest volume of about 2760km2. The lake has so far dried up three times, it last dried up 17300 years ago and refilled during 14700 years.
One can have a lot of activities done and carried out along lake Vitoria for example bird watching (different bird species), boat ride, fishing the large Nile perch, Tilapia and other fresh water fish on different islands which are located around lake Victoria in all the 3 countries surrounded by lake Victoria to support Africa's largest fishing income.
Fishing on Lake Victoria becomes one of the very best income in sustaining the economy of Africa like, Bugala islands, Koome island, Buvuma Island, Pyramid island, Bubembe Island, Damba Island, Bulingugwe island, Bujagai Island, Uganda's Ngamba island which is brought with the opportunity of visiting the chimpanzee on 100 acres after being orphaned by the bushmeat trade and poachers , Uganda's Sesse island one of the islands voted as the best hidden island chain in the world on this island you can enjoy fishing, boat rides, nature walks and visiting villages nearby.
It's amazing that the landlocked country Uganda has different sandy beaches over Lake Victoria which one can visit for sunny bathing and relaxation.
Lake Victoria is also surrounded by different restaurants with bar and grill on the shores one can relax, have dinner and drinks while viewing the weaves of the lake and the sunset.
Transportation means; Lake Victoria ferries have been an important mean of transport between the 3 countries of Africa connecting to different ports Kisumu, Mwanza, Bukoba, Entebbe, Port-bell and Jinja.
The Uganda wildlife education center the zoo is along Lake Victoria you can have a min safari in the zoo and surrounding vegetation to visit while viewing the shores it's such an amazing experience.
Note: The water is not allowed to swim in since it's very deep and disease ridden with malaria caused by mosquitoes, bilharzia and it has a very high risk for visitors to take care to avoid getting wet and never to swim in the lake.
The easiest way to visit the islands and enjoy other activities is booking a guided tour, a lot of visitors enjoy an excellent natural site.