11 Days Birding Uganda safari and Wildlife Adventures
This bird and wildlife itinerary offers a 11 days birding Uganda safari to Uganda's richest sites for birds, big game and primates. The day trip to Mabira Forest Reserve & half day to Mabamba Swampland set the stage for what is to be an incredible birding tour, with a good checklist of forest and swamp specials. The following days see tours to Ziwa Rhino Sanctuary, Murchison Falls National Park, Semuliki National Park and Kibale Forest National Park. What you get is an incredible combination of an attractive bird checklist, amazing game sightings, beautiful sceneries, chimpanzees and lots of primates.
11 Days Birding Uganda
Duration
11 days
Departure / Return
Hotel pickup - Your also returned to your hotel.
Programme for the 11 Days Birding Uganda safari and wildlife adventures
Early morning breakfast & departure to Mabamba Swamp to look for the Shoebill and a number of swamp specials. The Mabamba swamp is covered in marshes with an excellent network of channels created by fishermen and their canoes. These pass for excellent birding trails.
Mabamba offers an excellent start to birding in Uganda and shall give you a good checklist in a short period. Along with the canoe captain and your bird guide, take a ride through the reeds & papyrus and look out for birds including: Shoebill, African Jacana, Purple Heron, Squacco Heron, Hammerkops, African Openbill, Saddle-billed Stork, Sacred Ibis, Hadada Ibis, African Fish Eagle, African Marsh Harrier, African Harrier-Hawk, Lizard Buzzard, Black Crake, Long-toed Lapwing, Malachite Kingfisher, Pied Kingfisher, Blue-breasted Bee-eater, Black-and-white Casqued Hornbill, Banded Martin, Angola Swallow, Greater Swamp Warbler, Swamp Flycatcher, Slender-billed Weaver, Vieillot's Weaver, Yello-backed Weaver, Fan-tailed Widowbird, and Common Waxbill.
You will travel with packed lunch. Dinner and overnight is at your Hotel.
Early morning breakfast and travel to the Ziwa Rhino Sanctuary situated approximately 3 hours of drive from Kampala on the Kampala - Gulu Highway, the Ziwa Rhino Sanctuary is popular for the only wild Rhinos in Uganda. The sanctuary is quite rich in birdlife, hosting over 250 species including a number of rare African specials.
Take a game ranger and set out for a trek into the sanctuary. Look out for birds including White-crested Turaco, White-headed Barbet, White-crested Helmetshrike, Shoebill, Saddle-billed Stork, and African Fish Eagle. You stand a good chance of sighting the white Rhinos and a range of other wildlife. This is a short birding and rhino adventure lasting about 3 hours.
Return and drive to Kabarega Diners or Masindi town for your lunch. Thereafter proceed and get to Paraa, Murchison Falls National Park to relax, have dinner and overnight.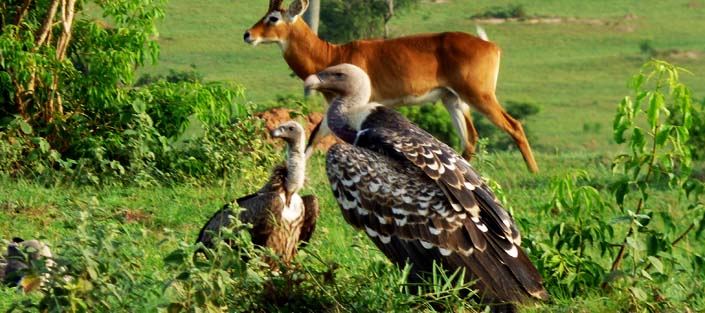 Wakeup early in the morning for breakfast and set off for a full day on the game viewing tracks of Murchison Falls National Park on the northern side of the Nile and along the Nile - Lake Albert Delta. An earlier start say at about 6pm offers a good chance of sighting some elusive nocturnal birds such as the Nightjars and animals such as the Hyenas, Leopards, and Lions etc.
The northern side of the Nile offers the best wildlife experience given the bigger volume of game and more diverse wildlife compared to the southern. Birds include: Denham's Bustard, Senegal Skinner, Egyptian Plover, White Crested Turaco, Pennant-winged Nightjar, Standard-winged Nightjar, and the Shoebill at the Nile Delta.
The savanna scenery is amazing with lots of game including Elephants, Giraffes, Buffaloes, Jackson's Hartebeest, Waterbucks, Bushbucks, Uganda Kob, Oribi, Lions, Baboons, and lots more. You'll take packed lunch.
Return to your lodge in the evening for dinner and overnight.
Early morning birding around Paraa before getting on a boat ride at about 9:00am downriver to the Nile Delta. This is commonly known to birders as the "Shoebill Boat Ride" as it intends to catch the elusive Shoebill at the delta point. Several aquatic and swamp species are common along the Nile and at the Delta, such as African Skimmers, Goliath Heron, Common Squacco Heron and more. Return for lunch.
Later set out for the afternoon Launch Cruise upriver to the base of the spectacular Murchison Falls. This arguably is the biggest highlight of any Murchison Falls tour, offering an array of water birds and game along the river banks. African Skimmers, Red-throated Bee-eaters, African Fish Eagles, Cattle Egrets are common and conspicuous throughout the ride, especially at adjascent limestone cliffs. The Shoebill could also be sighted in floating hyacinth along the Nile.
Hippos and Nile Crocodiles are sighted throughout the ride. Elephants, Hippos, Lions, Antelopes, Warthogs and several others animals come to drink, cool off and eat fresh grass along the banks. When you get to the base of the Murchison Falls, you shall leave the Launch and hike around the falls to the top. The 45 minutes hike offers the best and memorable views of the Nile crushing through the gorge. The sight is simply amazing! When you get to the top your driver guide shall be there waiting for you. You shall then drive off to Budongo Forest for your dinner and overnight.
After the early breakfast you set off for a full day of birding in Budongo Forest. Birding along the famous "Royal Mile" is a highlight for any birding tour in Uganda. This and other trails in Budongo offer an attractive checklist of forest specials. Scan for: Cassin's Hawk-eagle, Nahan's Francolin, Black-colored Lovebird, Chocolate-backed Kingfisher, Blue-breasted Kingfisher, African Dwarf Kingfisher, Piping Hornbill, Red-sided Broadbill, Pavel's Illadopsis, White-spotted Flufftails, Forest Robin, Spotted Greenbul, Forest Flycatcher, Chestnut-capped Flycatcher, Sabine's Spinetails, Cassin's Spinetails and Ituri Batis.
Budongo is home to lots of primates including about 700 Chimpanzees some of which have been habituated. Monkeys and Baboons are in abundance. You will carry packed lunch. Dinner and overnight is in Budongo.
It is an early morning departure to Semuliki National Park. Lunch is en-route. Dinner and overnight is in Semuliki.
Early breakfast and transfer to the Kirumia River Trail for a full day of birding. The Kirumia River Trail is another of Uganda's must bird spots. The trail offers an incredible checklist of good birds. Look out for Yellow-throated Cuckoo, Yellow-throated Nicator, Red-billed Dwarf, White-crested Hornbill, Black-casqued Wattled Hornbill, White-breasted Negrofinch, Pale-fronted Negrofinch, Red-headed Bluebill, Egyptian Goose, Abyssinian Ground Hornbill, Blue-breasted Bee-eater, Black-headed Bates, Snowy-headed Robin-chat, African Scopes Owl, Pygmy Kingfisher and Narina Trogon.
You will travel with packed lunch and later return to your lodge for dinner and overnight.
Another early morning birding in Kirumia till noon. Thereafter transfer to Sempaya for the trek on the Sempaya Trail including visits to the two Sempaya Hot Springs. This trek offers a number of birds and monkeys. You'll carry packed lunch.
Return to the lodge for dinner and overnight.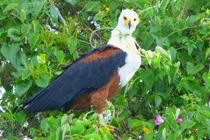 You will bird in Semuliki for another half day after which you check out and transfer to Kibale National Park. Situated approximately 1 hours of drive from Semuliki, Kibale National Park is popular for its incredible concentration and diversity of primates, including up to 13 species. Among them include the biggest population of chimpanzees in Uganda (about 1450), and East Africa's largest populations of the red Colobus and l'Hoest Monkeys.
Others include the Grey-cheeked Mangabey, Olive Baboon, Bush Baby, Black and white Colobus, Potto, Red-tailed and Blue Monkeys. The birdlife of Kibale is impressive too, including more than 375 species many of which are uncommon elsewhere, a good example being the much sought-after Green-breasted Pitta. There also are lots of interesting terrestrial mammals though not easy to come by including Sitatungas, Leopards, Forest Elephants, Bush pigs, Mongoose and many more.
Early morning transfer to Kibale Forest for birding. Explore the trails radiating from the park's entrance and look out for birds including: Red-winged Francolin, Red-chested Flufftail, White-napped Pigeon, Joyful Greenbul, Blue-throated Roller, Red-chested Owlet, Crested Guineafowl, Blue-spotted Wood Dove, African Green Pigeon, Narina Trogon, Speckled Mousebird, Green-backed Camaroptera, Scaly-breasted Illadopsis, Grey-headed Sunbird, Blue-throated Brown Sunbird, and Lesser Blue-eared Starling.
Return for lunch and later on transfer to the ranger station by 1:30am for briefing from the ranger after which you set to track habituated Chimpanzees in Kibale National Park. Kibale National Park is the favorite for chimp tracking given the bigger numbers of chimpanzees and better accessibility compared to other forest with Chimps. Along with the chimps expect other wildlife encounters and more bird sightings. Return to the lodge for dinner and overnight.
Early morning search for the Pittas. Return in time for lunch, after check out and transfer to Kampala for your evening flight.