Gorilla safaris in Uganda, Best gorilla trekking tours in Uganda 2023/2024
Uganda is renowned for its incredible wildlife, and one of the most popular experiences for nature enthusiasts is a gorilla safari. Uganda is home to almost half of the world's remaining mountain gorillas, making it an ideal destination for observing these majestic creatures up close in their natural habitat.
What is the best destination for gorilla safaris?
The best and top destination for gorilla safaris is none other than Uganda the pearl of Africa. In Uganda gorillas are seen in two national parks, that is Bwindi Impenetrable national park and Mgahinga gorilla national park. Bwindi Impenetrable National Park offers a unique and immersive gorilla trekking experience. Treks can be challenging due to the park's dense vegetation, but the effort is worth it when you encounter gorillas in their natural environment.
What is the best time for gorilla safaris in Uganda
Gorilla trekking in Uganda is enjoyed year-round, but the dry seasons from June to August and December to February are generally considered the best time for gorilla safaris. During these periods, the trails are less muddy, making trekking easier. However, it's essential to note that gorilla permits are required regardless of the season.
How to get a gorilla permit in Uganda and how much it costs?
Gorilla trekking permits are required to visit the gorillas in Uganda, and they are supposed to be obtained in advance. A gorilla permit in Uganda costs $700 USD per person and is only bought from Uganda Wildlife Authority (UWA) through African Adventure Travelllers. Gorilla permits are always limited in number to ensure conservation efforts and minimize human impact on the gorillas' habitat. It's advisable to book permits well in advance, as they are always in high demand.
Call/WhatsApp Now To Engage With Our Gorilla Safari Travel Expert
The Top Best and Private Gorilla safaris in Uganda
Gorilla safaris in Uganda are a lifetime experiences. All our tours are private and tailor made for you.
---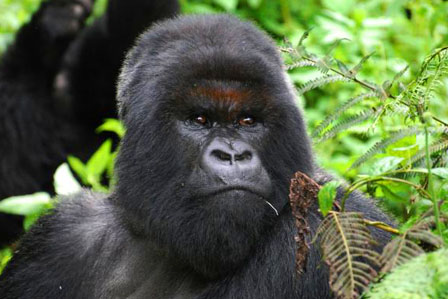 This 3 days gorilla trekking bwindi trip in Uganda is done in Bwindi Impenetrable Forest National Park situated in the South Western area of Uganda on the boarders of Uganda, Democratic Republic of Congo (DRC) and The Republic of Rwanda. Bwindi Impenetrable Forest National Park is attached to Bwindi Impenetrable Forest which is next to the Virunga National Park on the edge of the Western Great Rift-Valley. With a drive through Lake Mburo National Park and Queen Elizabeth National Park, which finally takes you to the Bwindi Impenetrable Forest as part of your 3 days gorilla trekking tour safari.
---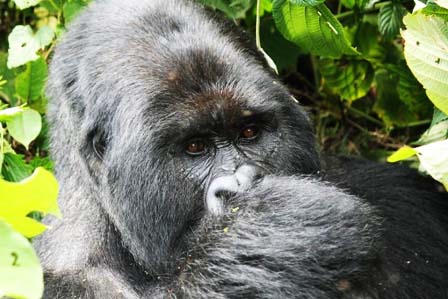 This 3 Days Gorilla tracking from Kigali to Bwindi safari transfers you from the Republic of Rwanda to Bwindi Impenetrable forest National Park in Uganda. Our company driver guide meets you at the Kigali Airport or your hotel in Kigali town and drives you North of the country via Ruhengeri through the Cyanika border post and head through Kisoro town for an over night in Bwindi forest National Park. On entering Uganda, we can track the gorillas at the Nkuringo, Mgahinga, Rushaga, Buhoma or even Ruhija sections.
---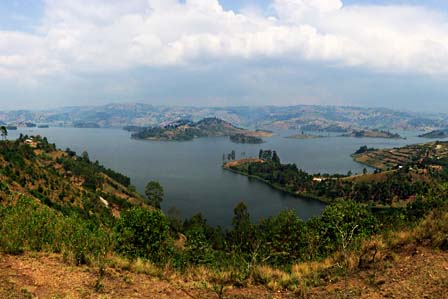 This 3 Days Gorilla Tracking Bwindi forest and Lake Bunyonyi safari package takes you through adventurous, memorable and relaxing moments, and gives you chances to the thrilling and exciting mountain gorilla tracking expedition in Bwindi Impenetrable Forest Park situated in the south western region of Uganda, and an adventurous driving through the hilly areas of Kisoro - Kabale. After your morning breakfast on day 3, expect to go for a canoeing on Lake Bunyonyi.
---
3 days gorilla trekking Nkuringo with Lake Mutanda and Virunga views' safari to Bwindi Impenetrable Forest national park the world's prime mountain gorilla tracking destination. The aptly named "impenetrable" rain-forest harbours at least 300 Mountain Gorillas, which account for more than half of the world's remaining endangered Mountain Gorillas. Up to 13 Mountain Gorilla communities have been habituated for gorilla tracking or trekking expeditions.
---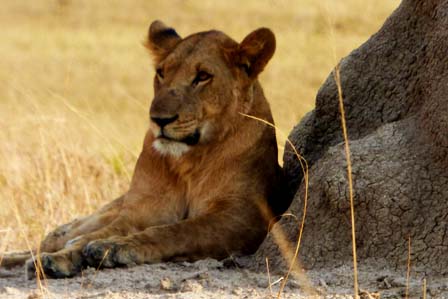 This 4 Days Gorilla tracking Bwindi and Ishasha tree lions tour gives you a much more time to look for the tree climbing lions in the Ishasha plains of Queen Elizabeth national park. Remember, though the attention might be more on the tree climbing lions, but the game drive done in the game park gives you more chances of spotting other wildlife, that is to say; Hippos, Buffaloes, Elephants, Baboons, Uganda Kobs, Topis and many more other wildlife animals.
---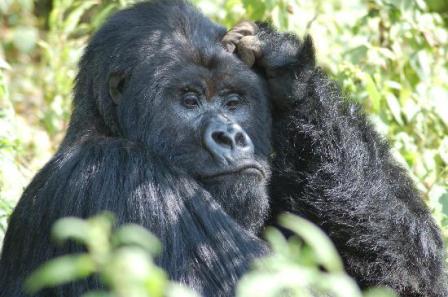 This 5 Days Gorilla tracking tour, Lake Mburo and Queen Elizabeth Safari takes you to the misty Bwindi Impenetrable forest for gorilla tracking, Lake Mburo for wildlife and an adventurous boat ride and Queen Elizabeth for the tree climbing lions at the Ishasha plains. On your arrival day at the Airport, you will be picked by our trained guide/driver from the African Adventure Travellers and then be taken to the already booked hotel. Depending on the arrival time of your flight, you may wish to rest for a day after your long flight, or decide to start off with your 5 days trip of Uganda the next morning.
---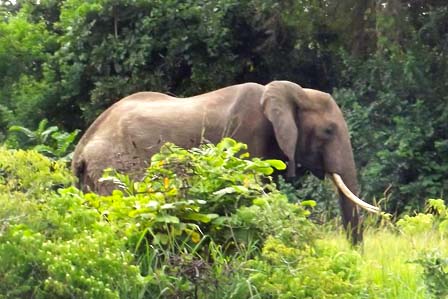 This 6 Days Uganda Gorilla tracking and wildlife safari takes you through a variety of activities like rhino tracking at the Ziwa Rhino Sanctuary, game drives through the Murchison falls national park, sighting of the tree climbing lions in Ishasha plains at Queen Elizabeth and gorilla trekking in Bwindi impenetrable forest national park. On the day of arrival at Entebbe Airport.
---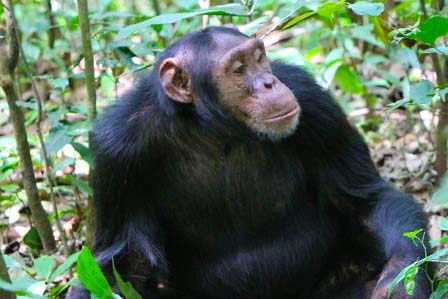 This 8 Days Uganda tour, primates and wildlife safari takes you to Uganda's biggest and largest national park the Murchison Falls national park to see a number of wildlife species like lions, elephants, giraffes, buffaloes, leopards, hippos, crocodiles, among others with a nile boat ride and to Kibale Forest National Park to see the chimpanzees, drive through Ishasha in Queen Elizabeth national park for the tree climbing lions and to Bwindi impenetrable forest national park for the giant mountain gorillas.
---
Note: Gorilla trekking is a conservation-oriented activity, and guidelines must be followed to protect the gorillas and their habitat. Our travel consultants with expertise in gorilla safaris are ready to help you with gorilla permit arrangements, transportation, and accommodation to ensure a smooth and enjoyable gorilla trekking experience.
Start Planning Your Gorilla Safari Now
Call/WhatsApp Now To Engage With Our Gorilla Safari Travel Expert
---
In addition to gorilla safaris, Uganda offers a wealth of other wildlife and outdoor activities. You can explore other national parks like Murchison Falls National Park, Queen Elizabeth National Park, Kibale National Park, Lake Mburo national park, or Kidepo valley national park which are known for their diverse wildlife and stunning landscapes.