Kazinga channel is a natural channel of about 32km and a natural channel connecting lake George from the East about 2.4m and lake Edward from the west which is 2000km and also known as the main fresh water lake in Uganda. The water flows from Ruwenzori Mountain North George through kazinga channel and west of Lake Edward. Kazinga channel is the main vein and dominant feature of Queen Elizabeth National park which can also offer the best view in the park.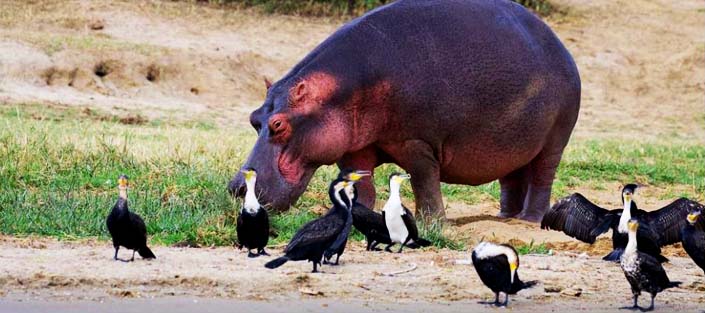 Kazinga channel is one of the world's largest concentration of hippos and Nile crocodiles, it also attracts a number of animals and different bird species. The North Kazinga and Kasenyi plain can offer a breath and give better view of different animals.
On the eastern section which is Kasenyi plains on Kasenyi road is a better place to spot lions prey on Ugandan kobs.
You can have a boat cruise for your game drive from Mweya safari lodge which sets off 4 times a day from 3pm to 5pm with additional expedition from 11am to 1pm depending on the Tourist interest. Game drive is mostly enjoyed in the morning when animals are looking for prey, afternoon when they are roaming and in the evening.
Although an alternative of night game drive can be arranged for the tourists in a special way. The boat is able to carry 40 passengers including a professional ranger who is fully knowledgeable with information about the Kazinga channel and animals attracted at this area with a view of Queen Elizabeth National park.
Bird species around the Channel; while having a boat cruise, a tourist can see over 60 bird species for example the king fisher, fish eagle, black bee-eater, African swimmers and many others around the Kazinga channel.
During a game drive you will see a number of fishermen setting nets for their duty at work in order to avoid hippos, hippos are always in water at day this giving an opportunity for the fishermen to carry out their duty at night.
Kazinga channel game drive can offer an amazing sight of elephants grazing , interacting with goats which are domestic animals, and also look at the goats how they have in mind the time to run home when its gets dark (this isn't in the western wild).
At night if you're in the lodge you can also hear the sounds of Hippos munching in the grass. You will also be told a history of hippos being killed in 2005 as a result of an anthrax outbreak. This is when animals feed on remnant vegetation in a dry month.
Kazinga channel has a number of Tourists visiting every day for a game drive and also have a look out for different wild species, it's a duty of a game ranger to offer the best information of the wild life and also help you to identify some of the animals and also to ensure you the have a most pleasured time as well as amazing safari.
Getting there the boat cruise begins from Mweya peninsular, west Kasese on Mbarara Road.
Safaris trips that takes you through the Kazinga Channel
3 Days Kibale Chimps & Queen Elizabeth