Mweya Safari Lodge is suitably located for adventure in the exciting Queen Elizabeth National Park on a peninsula overlooking Lake Edward and Lake George.
The lodge's location enables you to easily engage in safari activities such as chimpanzee tracking, game drives, boat cruise, birding in the park and return for a comfortable and relaxing rest at the lodge. The lodge itself is always under constant 'monitoring' by mongoose and warthogs so even before trekking the park for game there is always game at the lodge to view.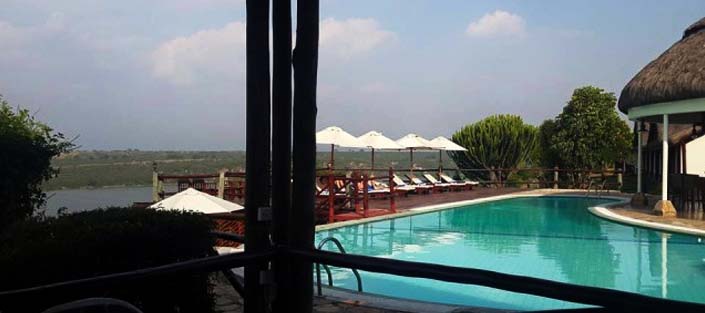 The lodge has different types of accommodation facilities to cater for the visitors' different accommodation needs and desires. These include standard rooms, deluxe rooms, suites, luxury accommodation. The rooms are well furnished and free from mosquitoes or any kind of infestation.
All the rooms in the accommodation facilities are well designed to give you a stunning view of the Lakes Edward and George and Rwenzori mountains in the comfort of your rooms.
The lodge serves international cuisine to cater all visitors irrespective of where you are coming from.
When at the lodge please do not miss the swimming pool. At least if you are not going to swim just go, it has the best view of things- drop dead stunning.