5 Days Amboseli and Tsavo wildlife safari for game viewing
5 Days Amboseli and Tsavo wildlife safari transfers to Amboseli national park situated in the southern part of Kenya commonly knowns for large herds of elephants and great views of Mount Kilimanjaro across the border in Tanzania. The safari further takes you through Tsavo West national park the encompasses mountains and hills for climbing, savanna bush and semi-arid desert scrub, acacia woodland, palm thickets, rivers and the tranquil Lake Jipe and Tsavo East national park a natural area of flat, dry plains, with thorny bushes and swampy marshland famous for its large families of giraffes, gazelles, hartebeests and zebras, as well as the "Big Five".
5 Days Amboseli & Tsavo
Duration
5 days
Departure / Return
Hotel pickup - Your also returned to your hotel.
Amboseli national park the second known animal park after Masai Mara rests right away North West of Mount Kilimanjaro, on the border with Tanzania. The Park covers 392 square kilometres and forms part of the much larger 3,000 square kilometre Amboseli ecosystem.
Tsavo West national park is found in the Coast Province of Kenya covering an area of 9,065 square kilometres. This park is more mountainous and wetter than its counterpart, with swamps, Lake Jipe and the Mzima Springs. It is famous for its bird species and the large mammals like the black rhinos, Cape buffaloes, elephants, leopards, hippos and Masai lions.
Tsavo East national park is one of the oldest parks in Kenya, located South East of Kenya near the Town of Voi in the Taita-Taveta District of Coast Province, inland from the Coast covering an area of 13,747 square kilometres.
Program for the 5 Days Amboseli and Tsavo wildlife safari for game viewing
Pick up from the airport at 8:30 am and drive south to Amboseli via Nairobi Mombasa highway. Amboseli National Park is a fantastic park that borders Tanzania. The park is a mixture of wetlands and dry savannahs and is a photographers' paradise with the backdrop of the imposing Mount Kilimanjaro and abundant wildlife including herds of elephants, big cats and lots of bird life - it really is a park not to be missed!
You will arrive in time for lunch at Your Camp, located just outside the park, then late afternoon you will head out into Amboseli for a game drive to explore the park, after which you will return to your camp for dinner and an evening relaxing where you'll be treated to a traditional Masai dance!
Over night and Dinner at Oltukai Lodge
Have an early breakfast and leave the camp at 0700hrs with packed picnic lunch for a full day adventure in the park. The park hosts many jackals, spotted hyenas, olive baboons, vervet monkeys, antelopes and the chance of spotting leopard or cheetah. Observation Hill, conical peak which is easy to climb offers great views of Mount Kilimanjaro.
Lunch will be served at the Observation Hills which offers clear views of the entire park as well as views of the breathtaking Mount Kilimanjaro relax after lunch enjoying watching animals such as herds of elephants, buffalos, hippos, wildebeest, zebras among others grazing a few meters away. Return to the camp at around 4pm. You may also have an optional visit to a local Masai village.
Over night and Dinner at Oltukai Lodge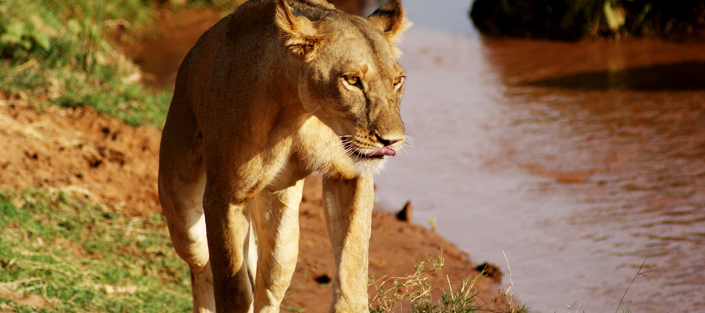 Wake up early to see the sunrise over the imposing Kilimanjaro, then after breakfast you'll continue your safari onto Tsavo West, which is about a 2-hour drive. The drive to Tsavo is mostly through wilderness and you will pass by some interesting lava flows on the way. You will be staying at the stunning Kilaguni Serena Lodge situated inside the park; which is a game-viewing lodge over-looking its own watering hole that can have daily visits from elephants and many other plains mammals.
You will arrive in time for lunch, then you'll be taken on a late afternoon game drive and a visit to the Mzima Springs where you may see hippos and Nile crocodiles and many different bird species. You'll return to Kilaguni Serena for dinner and spend your evening relaxing and watching the wildlife arrive at the watering hole overlooked by the lodge's restaurant. You can spend the next day taking game drives at your leisure, enjoying the lodges' facilities or spend the whole day exploring the park with a picnic lunch.
Over night and Dinner at Kilaguni Serena Camp
Wake up at first light, grab a cup of coffee and leave the lodge for an early morning game drive in search of wildlife. Return to the lodge for breakfast. Checkout thereafter and proceed to Tsavo East; a plateau of open grassland with giant baobab trees where you'll get a great feeling of being out in the wilderness.
You'll arrive in time for lunch at the Ashnil Aruba lodge situated on the Galana River, before taking an afternoon game drive and a visit to the Lugards Falls and Mudanda Rock. Spend the day exploring the wilderness of Tsavo and we will include a visit to the Aruba dam, which is an attraction for many species of bird and mammals.
Over night and Dinner at Ashnil Aruba Lodge
Wake up early and proceed for your last game drive at 0630hrs in the reserve followed by a late breakfast at the lodge. Alternatively, you may have breakfast, check out and enjoy a morning game drive before departing for Nairobi arriving in the late afternoon where you will be dropped off at a After 40 Hotel City Centre or MashPark Hotel along Ngong Road.
Be dropped at your hotel in Nairobi or at the JKIA Airport for your home bound flight back home.
What is included in your 5 day safari package
Return transport in a 4x4 tour land cruiser jeep with pop up roof
Park entrance fees to Tsavo and Amboseli national parks
Accommodation in Double / Twin rooms
Meals are on full board basis
Comprehensive Game Drives in Amboseli and Tsavo natonal parks
Services of a private qualified guide / driver
Transfer to SOS Technical Institute in Buruburu
Mineral drinking water throughout your safari
Evacuation covers
What is excluded in your safari
Personal Items (Visas, flights)
Alcoholic beverages
Any other item not included in the itinerary
Tips and gratuity (10 Dollars a day)