Mountain Elgon which is the forth highest mountain in East Africa, (locally known as Masaba) is found in the Eastern part of Uganda around 238km on the Kampala-Jinja Highway through Mbale town to Kapchorwa. The mountain borders Uganda in the east and to the west in Kenya. It is an extinct volcano reaching 4321m high the park has magnificent waterfalls, caves, gorges, and hotsprings. It is also excellent for hiking there are no major technical climbing skills required and all major peaks are accessible to hikersthe full treking circuiot takes 4-5 days but 3 days hikes are also available .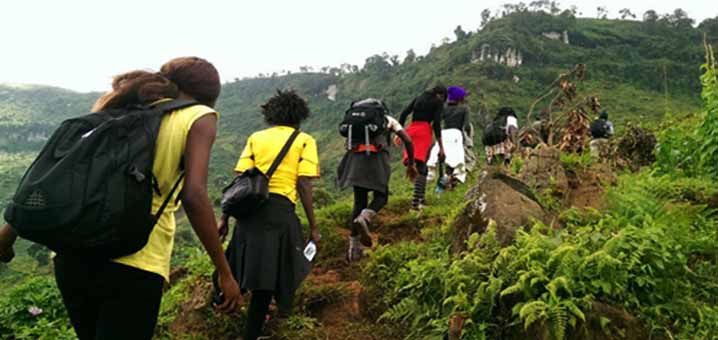 The mountain has two main trails, the Piswa and the Sasa trails. Hiking is more recommended in the dry season (June - August or December - February-although the weather today can be un-predictable), porters, guides and park rangers are always recommended.
The Park boasts of animals like Buffalos, Duikers, Tree hyrax and leopards. Elephants have been sighted in the park coming in from Kenya. there are also lots of primates found there.
Another attraction near Mountain Elgon is the Sipi Water falls which lie on the edge of the mountain.
Mount Elgon Trekking Circuit - Sasa Trail.
Day 1 - Budadiri to Sasa Camp (2.900m).
In the morning you get to Budadiri (1250 m), nearby Mbale town, start walking to Sasa River Camp (2.900 m) for the dinner and overnight. The distance is about 8 km. and takes average 7 to 8 hours walk. Altitude in a day: 1.700m.
Day 2 - Sasa camp to Mude Camp (3.500m).
After breakfast at the camping site, proceed through the forest to Mude Cave Campsite for dinner and overnight. It will take you 4 to 5 hours walk to reach the campsite. Altitude of the day: 600m.
Day 3 - Mude Camp to Wagagayi Peak (4321 m) return to Mude camp.
Morning breakfast, walk through the moorland zone up to the main peak, Wagagai, and return to the Mude campsite for dinner and overnight. The distance is 8 to 9 hours walk Altitude of the day: 820m.
Day 4 - Mude Camp back to Budadiri.
After breakfast descend to Budadiri and back to Mbale.
Day 5 - Drive back to Kampala/Entebbe Airport.
Mountain Elgon Peaks.
Mount Mubiyi 4,211m high.

Mount Masaba 4,161m high.

Mount Wagagai 4,321m high.

Mount Sudek 4,302m high.

Mount Koitobos 4,222m high.
Main Activites in the park.
How to get there.
Kampala - Jinja through Mbale High way to Kapchorwa.