Apoka Lodge is a relatively luxurious accommodation facility located in Uganda's least touched game park - Kidepo Valley National Park. It is a perfect departure point for an African Safari in the unique wilderness of Kidepo.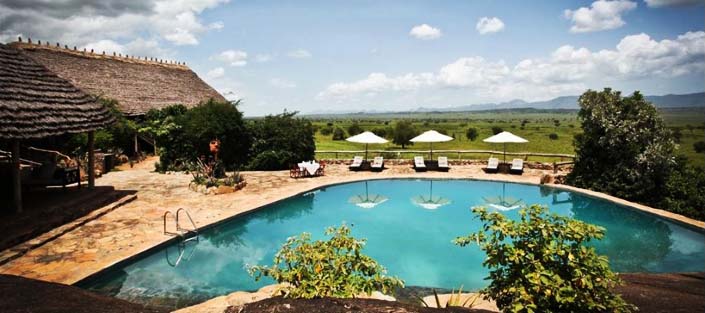 The lodge commands breathtaking views of the landscape made of several rocky out crops and hills, and the savanna grasslands dotted with short trees and shrubs. One can occasionally view game from the lodge such as elephants, giraffes, zebra, buffaloes, jackals, hogs and antelopes.
The accommodation and lodging facilities were built with wood and thatching grass that blend seamlessly with the surrounding savanna grasslands of Kidepo Valley National Park to give you a priceless experience of comfort and adventure.
Apoka Safari Lodge in Kidepo Valley Park has 10 spacious rooms with en-suite bathrooms with double sink and large tropical shower, big hand-hewn beds with mosquito nets and duvets, woolen carpets, towels, and dressing gowns. Each of the rooms has a private veranda from which visitors can relax and enjoy the magnificent wildlife of the park. Water is heated with a solar power.
The lodge has a main house that has the restaurant and lounge. The restaurant serves excellent food and the lounge has a good collection of books and games that add to your safari experience while at the lodge and Kidepo Valley National Park.
Facilities at Apoka Lodge
10 spacious rooms equipped with en-suite facilities
Restaurant
Lounge
Solar power
Swimming pool
Reading materials in the lounge
Games in the lounge