The River Nile in Uganda-One of Africa's 7 Natural Wonders - the River - has its most known and significant source in Jinja – eastern Uganda. The Nile starts its flow right at the edge of Lake Victoria, Africa's largest lake, simmering through the lush & verdant countryside of Jinja while creating along a series of spectacular rapids and waterfalls.
The part of the Nile in Jinja, right from the Lake Victoria, has become a source of thrilling adventures and wonderful experiences, to the effect that Jinja is now dubbed the "Adventure Capital of East Africa". For adrenaline junkies and adventure enthusiasts, Jinja is the place!
Some of the Jinja adventures:
Horse Riding
Riding through the verdant countryside along the Nile whilst viewing a plethora of wildlife is extremely satisfying experience. The Horse riding trails cross through villages, farmlands, communities, to the banks of the Nile.
Quad Biking
Quad biking is yet another thrilling adventure and an interesting way to explore the Nile and beautiful countryside of Jinja. There are quad biking trails running along the Nile, through the communities and farmlands. Quad biking not only gives you spectacular views of the Nile, but also a chance to delve into the day-to-today lives of the local communities, know their traditions & cultures and experience their profound hospitality.
White Water Rafting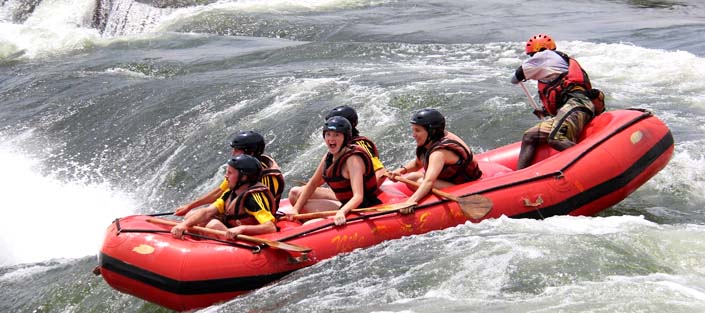 River Nile Jinja is rated one of the best white water rafting destinations of the world. The Nile has rapids ranging from level 3 through level 5, and rafting distances that will last you an entire day. The adrenaline pounding experience is epitomized by the lush green scenery along the Nile and the beautiful wildlife including birds all add to the overall experience. A full day of rafting covers 20km from The Haven (not far from Bujagali), experiencing up to 9 rapids, four of which are level 5 rapids, finishing at Itanda.
Kayaking
Kayaking the tough rapids of the Nile is yet another adrenaline pounding adventure. Yet also the sailing along the smooth sections is equally rewarding with wonderful views of the verdant countryside and the variety of wildlife along the banks such as birds, and lizards & snakes basking in sunshine at the edge of the river. Kayaking is done at Itanda, as is the rafting.
Sunset Cruise
The sunset cruise across the Nile and Lake Victoria is a soothing experience. Enjoy barbeque and cocktail whilst enjoying endless views of the breathtaking wonder of the Nile snaking through the lush green landscapes.
Bungee jumping
The ultimate adrenaline experience is the River Nile bungee jump! The plunge from the platform into the Nile is 44 meters high.