Kingfisher lodge is a 3-minutes drive from the main road located on the cliff egde of Kyansama - Kichwamba village ovelooking Queen Elizabeth National Park in Rubirizi District. The lodge boasts of spectacular views of the park savannah grasslands and the Rwenzori Mountain ranges. The lodge is thatched with papyrus and cement making rocks on it's walk ways.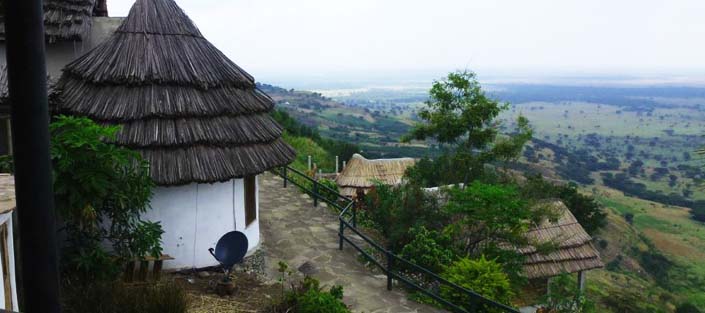 The lodge has spacious family cottages, tripplets, twins, singles and doubles all with warm showers. Drivers to the lodge are catered for with the accommodation. A big swimming pool overlooking the Kyambura Gorge for your afternoons as you relax by the pool with icecold drinks.
Kingfisher lodge has enough parking space with a spacious garden for relaxations under the tents as you watch the moon set and has 24hr security.
Kingfisher has easy accesibility to Queen Elizabeth National park for Game viewing, boat ride on the Kazinga Channel, Flamingo bird watching on Lake Munyanyange in Katwe and the Lake katwe salt mining area, Ishasha plains for the tree climbing lions, Chimpanzee tracking in Karinzu forest Reserve and Kyambura gorge.