3 Days Masai Mara wildlife safari - Masai Mara National Reserve
3 Days Masai Mara wildlife safari takes you to Masai Mara National Reserve located South West of Nairobi on a 280 kilometre journey and measures 1,510 square kilometres of land stretching through the western part of the Kenyan rift valley via the Narok county and masai community.
This 3 Days Masai Mara safari or 3 Days Masai Mara wildlife safari or 3 Days Masai Mara wildebeest safari further spots you to the crowd of wildebeests that gather at the river bank, as if waiting for a sizable 'crowd' to gather before crossing. These wildebeests then edge closer to the water and it takes one of the animals to start crossing for the rest to join in a frenzy of crossing the river.
3 Days Masai Mara safari
Duration
3 days
Departure / Return
Hotel pickup - Your also returned to your hotel.
The wildlife reserve is well known for its Natural wonder of an every year Wildebeest migration from Masai Mara-Kenya through the Mara River to Serengeti in Tanzania. The wildebeests cross the mara river from Kenya in July, August and September, but may some times cross earlier due to a great demand of grass. Among the other animals that cross through the migration include, Zebras, Elands, Thomson's gazzelles and many others.
Highlights of your 3 Days Masai Mara Wildlife Safari in Kenya.
Stopover at the Riftvalley view point.
Day 1-Evening and day 2-Full day game drives.
Visit to the Masai village
Programme for the 3 Days Masai Mara wildlife safari package.
Departure tiime will be at 8:00 am, and your driver guide will meet you for pick up in Nairobi from your Hotel / Residence or even Airport and drive west of the city through the masai land and finally to your new home in the mara wildlife reserve for the two nights.
The journey will take us from the valleyed Nairobi city lieing on the thika river with an altitude of 1661-meters above sea level ascending to the great western rift vally and have a fantastic view of the entire masai land characterised by a great view of Canopy from various species of trees and finally descend through the famous hotsprings town of mai-mahiu.
Continue with your drive to mara. Stopover in Narok town and pick a few drinks, fuel up and head to the mara reserve at your lodge for in time for lunch.
Set off from our lodge at 3:45 pm and head for a 4:00 pm evening game drive. Expect to spot among others: Wildebeests, Thomson's gazzelles, masai
giraffes
,
topis
,
lions
,
rhinos
etc.
Dinner and accommodation at your lodge.
Meal Plan: Lunch and Dinner.
Travel time: 4-5hrs (Nairobi to Masai Mara).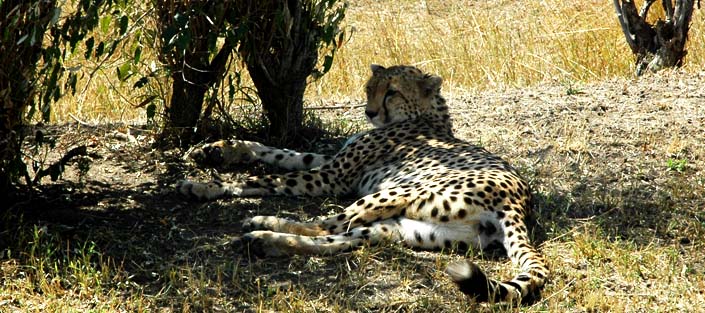 This is a fully packed day doing an all day game drive adding the morning and evening drives in the day's package. We shall depart from our lodge at 8:00 am after our heavy breakfast and hit the game trails in search of the wildlife.
We roll through the all corners of the park/reserve and shall spot thousands of wildlife including: Buffaloes, hippos in the Mara River-River, Zebras, Elephants, Thomson's gazelles, Grant gazelles, topis, Rhinos, leopards, cheetahs, jackals, lions, giraffes, warthogs (Pumbas) and many more.
Drive towards the Mara River for viewing the wildebeest prepare or do the migration. If lucky and have enough time to wait, you will witness this once in a life time Natural wonder.
Have your picnic lunch under the shed of a tree in the midde of the mara wilderness, drive back to your lodge with more sightings on the way for relaxation and refreshments.
Dinner and Overnight at the lodge.
Meal Plan: Breakfast, packed lunch and dinner.
We set off from mara and drive back to Nairobi for our connecting flights at Jomo Kenyatta International Airport.
Meal Plan: Lunch enroute.
End of the 3 Days Masai Mara wildlife Safari.
---
Optional Activities:
Hot Air balloon Safaris.
Masai Mara home-stead.
Accommodations to choose from:
Budget Camping:

Mara Sidai Camp
Encoro tentend camp
Enkolongo camp
Lenchada tented camp, etc
Mid-range:

Sopa lodge
Mara Simba Camp
Figtree mara camp
IIkeliani Mara Camp
Aa lodge, etc
High end / Luxury:

Sarova game lodge
Mara Bush tops
Fairmount Safari Club
Base Camp Mara
Angama Mara Camp, etc