1 Day Rhino Tracking Tour at Ziwa Rhino Sanctuary
1 Day Rhino Tracking Tour in Uganda spots you the only Rhinoceros at Ziwa Rhino Sanctuary, a land expanse of 7,000 hectares with Savannah and wooden vegetation species. Other than the rhinos, the sanctuary is home to a variety of animal, bird and reptile species. Animals that can be spotted at the sanctuary include the kobs, warthogs, monkeys, hippos, waterbucks, and many more. The sanctuary boasts of harboring 350 bird species including Africa's most sought after bird, the Shoebill stork, among others.
1 Day Rhino Tracking tour
Duration
1 day
Departure / Return
Hotel pickup - Your also returned to your hotel.
A visit to the sanctuary can be the only opportunity for you to track these fierce animals on foot guided by the ranger who feeds you with all the information about their natural history. It is a perfect day trip from Kampala to any short stay visitor.
Rhino Tracking Highlights
Getting upclose to one of the Big 5 after a walk through Savannah and swamps
Your visit contributes to the conservation efforts of restoring Uganda's Rhinos
Located half way between Kampala and Murchison falls National Park, the drive to the sanctuary usually takes about 2.5 or 3 hours. We depart for the trip at 7:00 am to have a drive through the famous Luweero triangle remembered for the brutal massacres during the Bush war that brought the ruling government into power in 1986.
Luweero is our usual stopover point for the purchase of fresh fruits for the day before reaching Nakasongola. Nakasongola is part of the country's cattle corridor and during the drive through, you are able to view cattle grazing the short grasses in open deciduous savannah woodlands.
On arrival at the sanctuary, you are briefed about the sanctuary and the Rhino tracking activity with the dos and don'ts. Tracking usually takes 2 hours and on return, we drive to Kabalega Diners for lunch, rest for a few minutes after lunch and there after drive back to Kampala / Entebbe.
What is included in package.
Return transport from your Kampala / Entebbe hotel to the sanctuary in a private safari vehicle
Lunch at Kabalega Diners with a soft drink
Bottled drinking water
Rhino tracking permits
An English speaking driver / guide
Other related safaris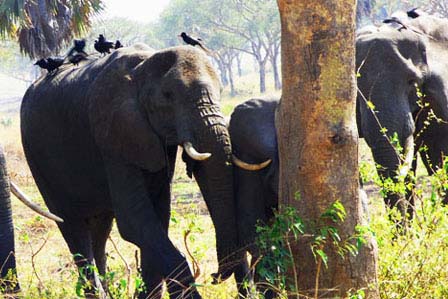 The 3 days big five safari in Uganda spots you to Rhinoceros (Rhinocerotidae) at Ziwa rhino sanctuary, Buffaloes, leopards, lions and African elephants at the Uganda's biggest national park.
List of Safaris that spots you to Rhinos