Flying trips / tours and Charter flights in Uganda

African Adventure Travellers introduces to you flying safaris to all the major safari destinations around Uganda. The flying safaris are an alternative to traditional safaris of accessing our safari destinations by road.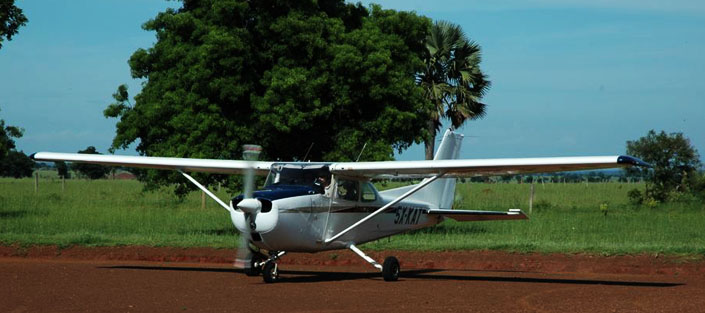 Though the long road journeys can be quite adventurous, the poor road conditions and the long distances cause a lot of unnecessary fatigue. Our flying safaris offer you a quick and scenic trip to your safari and ensure nothing is taken from your adventure.
African Adventure Travellers will organise and fly you to the major safari and tour destinations around Uganda including:

Murchison Falls National Park at Bugungu (South Bank), Chobe, Bulago, Fort Portal (Kibale), Ishasha (Queen Elizabeth National Park, Bwindi), Jinja, Kaiso (Lake Albert), Kasese (Kibale), Kayonza (Bwindi, Buhoma), Kidepo, Kihihi (Queen Elizabeth National Park, Bwindi), Kisoro (Mgahinga, Clouds), Mbarara (Lake Mburo), Mweya (Queen Elizabeth National Park), Pakuba (Murchison Falls National Park North Bank), Semliki, Tororo (Mt Elgon N.P)

Among other services apart from flying safaris, we will organise for you:
Medical evacuation aircrafts fitted with life supporting medical equipments.eg suction, ventilators, oxygen and power.




Aerial photography and filming with specialised photography and survey services using the latest technology in a wide range of formats.

Major flight destinations:
Most of the clients who come to Uganda vist the countrys popular parks including Bwindi Impenetrable for Gorilla tracking,Murchison falls for a spectacular view of the water falls,Kidepo National park for a great view of the vegatation and wildlife in the valley ,Queen Elizabeth with great views overlooking the Rwenzori ranges and semuliki park for the great savannah vegatation filled great wildlife.
Many of our customers visit Uganda to see our spectacular selection of wildlife. Some of our more popular parks include Kidepo, Murchison, Queen Elizabeth, and Semliki. Bwindi Impenetrable Forest, home of the endangered mountain gorilla, is one of our most popular charter destinations. Flying into these parks is a quick and scenic way to make the most of a vacation!
We also organise

3-days Murchison falls flying tours.




3-days Gorilla tracking bwindi.




3-4 & 5 Days Kidepo wildlife flying tour.




3-days queen Elizabeth flying tour.




Aircrafts used during our flight trips.




Cessna C208B Caravan-13 seater capacity.




Cessna C172 Skylane-3 seater capacity.




BN2B Islander-9 seater capacity.




Cessna C206 Stationair-5 seater capacity.




Cessna C210 Centurion-5 seater capacity.




Bell JetRanger-4 seater capacity.