Super Luxury Flying safaris, Luxury Bespoke African Safaris
Luxury flying safaris offer an exclusive and convenient way to explore some of the most remote and breathtaking wildlife destinations in Africa and other parts of the world. Unlike traditional safaris that involve long drives over rough terrain, luxury flying safaris use private chartered aircraft to transport guests between different safari destinations quickly and comfortably.
Highlights for choosing a Fly-in safari trip
Time-Saving: Flying between destinations saves a significant amount of time compared to road safaris. You can cover long distances in a matter of hours, maximizing the time spent at each destination and reducing the travel fatigue.
Scenic Views: Flying at a higher altitude allows for breathtaking aerial views of the landscapes below, giving you a unique perspective of the wilderness and its wildlife.
Customization: Our safaris can be tailored to suit your preferences, including the destinations you want to visit, the length of the safari, and the activities you want to engage in, such as game drives, guided walks, or hot air balloon safaris.
Talk to a Luxury Travel Expert Now (Call/WhatsApp)
When planning a Fly-in safari, it is ideal to engage with our travel consultants to assist in designing a personalized itinerary, arranging accommodations, and ensuring a seamless and memorable safari experience.
Best Luxury Flying Safaris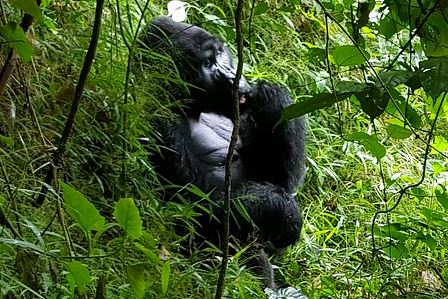 The 9 Days Gorillas and Wildlife super Luxury flying safari exposes you to Uganda's best experiences. A variety of animal species awaits you from the game drives to the boat rides, not to forget the Hot air balloon where you get an aerial view of the plains, vegetation, animals and the mesmerising view of the sunrise. The hot air balloon experience ends with a bush breakfast or champagne toast.
---
The 3 days murchison falls flying safari is a less stressing and time saving safari, it saves you from a longer ride and you get to see the beautiful landscapes of Uganda from an aerial view. You also get to do more as you have ample time to explore the park. On arrival at the biggest and oldest park, a safari jeep awaits you to immediately start your game drive through the most richly endowed sector of the park, with different animal species that include four of the big five that is the Lions, leopard, elephants and buffaloes other animals you will encounter are the Rothschild's giraffe and warthogs.
---
This 3 Days Luxury Gorilla Flying Safari takes you to the home of half of the world's population of Mountain gorillas, Bwindi Impenetrable National Park. The park is made up of beautiful hills covered in greenery with thick impenetrable vegetation as the name states. You get to see many of the Virunga mountain ranges from park.