Private or Solo Tours, Trips for single travelers, Private safaris in Africa
Private or solo safari holiday tours are an excellent way to immerse yourself in the beauty of Africa's wildlife and landscapes while enjoying a personalized and flexible experience. Our tailor-made private or solo safaris often provide more intimate wildlife encounters. You can spend as much time as you want observing animals in their natural habitats, without the restrictions of larger groups. This allows for a more immersive and personal wildlife experience.
Highlights for choosing a private or solo safari trip
Flexibility: Private or solo safaris allow you to customize your itinerary according to your preferences, interests, and timeline. You have the freedom to choose the destinations you want to visit, the activities you want to engage in, and the duration of your safari.
Personalized Attention: With a private or solo tour, you can enjoy individualized attention from your guide and have more opportunities for one-on-one interactions, allowing you to learn more about the local culture, wildlife, and ecosystems.
Privacy and Serenity: Traveling solo ensures privacy and a peaceful experience. You can fully immerse yourself in the natural surroundings, enjoy tranquil moments, and appreciate the sights and sounds of the wilderness without distractions.
Talk to a Solo Travel Expert Now (Call/WhatsApp)
When planning a private or solo safari holiday tour, it is ideal to engage with our travel consultants to assist in designing a personalized itinerary, arranging accommodations, and transportation, and ensuring a seamless and memorable safari experience.
Start Planning Your Solo Adventure Trip
Best Safari Holidays for Solo Travellers
At African Adventure Travellers, we know the best safari destinations for solos and we are happy to advise you on the different options available for your adventurous solo safari holiday. All our holiday safari tours for solo travellers are a lifetime experiences. These tours are private and tailor made for you.
---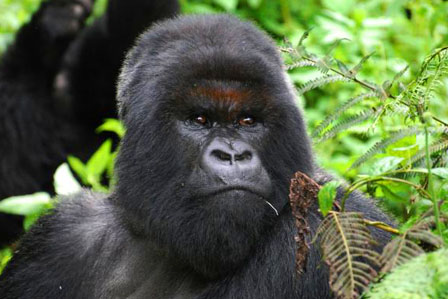 This 3 days gorilla trekking bwindi trip in Uganda is done in Bwindi Impenetrable Forest National Park situated in the South Western area of Uganda on the boarders of Uganda, Democratic Republic of Congo (DRC) and The Republic of Rwanda. Bwindi Impenetrable Forest National Park is attached to Bwindi Impenetrable Forest which is next to the Virunga National Park on the edge of the Western Great Rift-Valley. With a drive through Lake Mburo National Park and Queen Elizabeth National Park, which finally takes you to the Bwindi Impenetrable Forest as part of your 3 days gorilla trekking tour safari.
---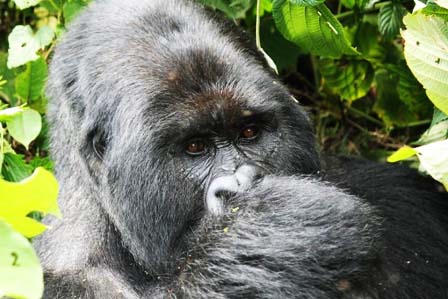 This 3 Days Gorilla tracking from Kigali to Bwindi safari transfers you from the Republic of Rwanda to Bwindi Impenetrable forest National Park in Uganda. Our company driver guide meets you at the Kigali Airport or your hotel in Kigali town and drives you North of the country via Ruhengeri through the Cyanika border post and head through Kisoro town for an over night in Bwindi forest National Park. On entering Uganda, we can track the gorillas at the Nkuringo, Mgahinga, Rushaga, Buhoma or even Ruhija sections.
---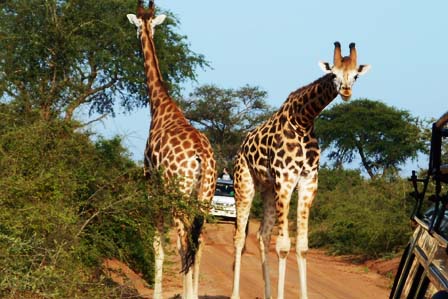 This 3 days 2 nights Uganda wildlife safari package to Murchison Falls ushers you into a variety of activities like numerous game drives that spots you to a number of beautiful wildlife species like the Lions, Antelopes like the Jackson's heart beasts, water bucks, warthogs, elephants, giraffes, among others, then hiking to the top of the falls and finally a great, memorable and unforgettable 3 hours boat ride experience on the Nile River to critically observe and hear the sounds of the falling waters of the Murchison falls.
---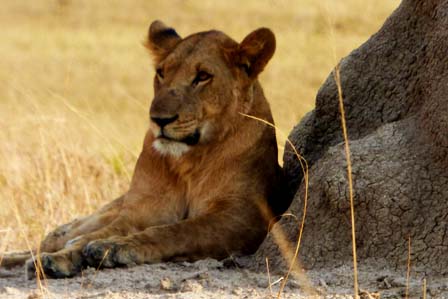 This 4 Days Gorilla tracking Bwindi and Ishasha tree lions tour gives you a much more time to look for the tree climbing lions in the Ishasha plains of Queen Elizabeth national park. Remember, though the attention might be more on the tree climbing lions, but the game drive done in the game park gives you more chances of spotting other wildlife, that is to say; Hippos, Buffaloes, Elephants, Baboons, Uganda Kobs, Topis and many more other wildlife animals.
---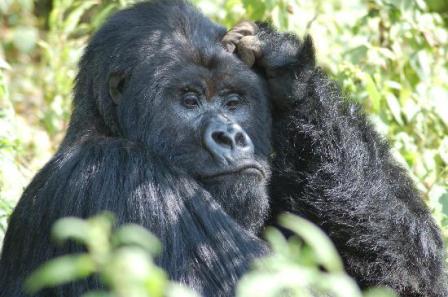 This 5 Days Gorilla tracking tour, Lake Mburo and Queen Elizabeth Safari takes you to the misty Bwindi Impenetrable forest for gorilla tracking, Lake Mburo for wildlife and an adventurous boat ride and Queen Elizabeth for the tree climbing lions at the Ishasha plains. On your arrival day at the Airport, you will be picked by our trained guide/driver from the African Adventure Travellers and then be taken to the already booked hotel. Depending on the arrival time of your flight, you may wish to rest for a day after your long flight, or decide to start off with your 5 days trip of Uganda the next morning.
---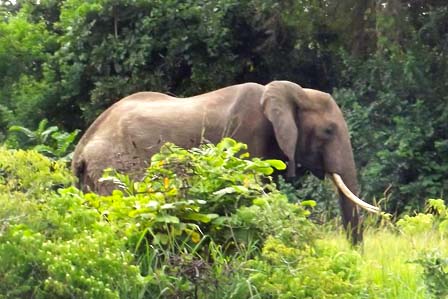 This 6 Days Uganda Gorilla tracking and wildlife safari takes you through a variety of activities like rhino tracking at the Ziwa Rhino Sanctuary, game drives through the Murchison falls national park, sighting of the tree climbing lions in Ishasha plains at Queen Elizabeth and gorilla trekking in Bwindi impenetrable forest national park. On the day of arrival at Entebbe Airport.
---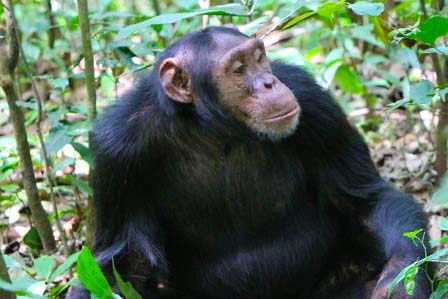 This 8 Days Uganda tour, primates and wildlife safari takes you to Uganda's biggest and largest national park the Murchison Falls national park to see a number of wildlife species like lions, elephants, giraffes, buffaloes, leopards, hippos, crocodiles, among others with a nile boat ride and to Kibale Forest National Park to see the chimpanzees, drive through Ishasha in Queen Elizabeth national park for the tree climbing lions and to Bwindi impenetrable forest national park for the giant mountain gorillas.